News
Saints Flex Muscles in 2021 Season Opener, Defeat San Diego Force 12-3
By Arroyo Seco Saints June 13, 2021 11:11am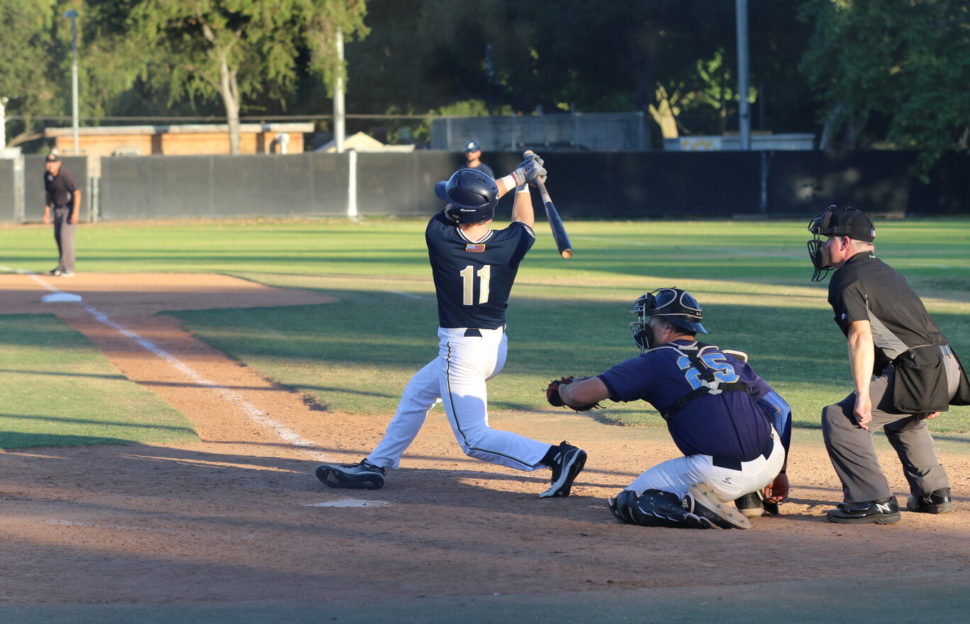 PASADENA, CA – The Arroyo Seco Saints opened up the 2021 summer campaign in a big way on Saturday evening, defeating the San Diego Force by a score of 12-3.
After having the season postponed last year due to COVID-19, Saturday marked the first day that the Saints were back playing baseball at Jackie Robinson Memorial Field in 687 days. The team showed up on Tuesday, and after a workouts, they were ready to go for the home opener.
"It's nice to have everyone together, summer ball is always about building relationships and meeting guys from all over," said Saints shortstop and leadoff man Brandon Bohning (Cal State Northridge). "Getting the first game out of the way is big for us, especially with a win that big, I think it's gonna help us keep rolling into the next game."
Jack Baird (Pepperdine) started the game for the Saints, pitching two solid innings and giving up one earned run on three hits. He struck out San Diego hitter Andre Wright with the bases loaded in the first, escaping an early jam.
There could have been a few jitters early on for the Saints hitters, but after a slow first two innings, they got rolling. With Blake Marsh (Wichita State) on second in the bottom of the third, second baseman Jackson Cobb (Texas Tech) hit a grounder up the middle for an RBI single.
Later in the inning, with the bases loaded and two outs, designated hitter Peyton Lewis (Texas State) stepped up and hit a ground ball that was too hot to handle for San Diego shortstop Champion Robbins. All three runners raced around to score as the ball kicked into center field making it 4-1, Saints.
Left-handed pitcher Merek Sears (Washington State) pitched a perfect, shutdown inning in the top of the 4th, striking out his final batter. Arroyo Seco picked up right where they left off in the bottom half of the inning on offense, scoring five more runs. Cobb knocked in two of the five with his second RBI single, and Bohning followed it up with a booming triple into the right center field gap, scoring two more and making it 8-2.
"I think (we have) a good hitting team," said head coach Aaron Milam. "I think it's a lot of really confident guys, and that's what you need in summer ball, because you come out and you play with nothing else. Don't have to worry about going to school tomorrow, don't have to worry about a final in two weeks. They're just out here playing baseball, and I think that's really what you saw tonight."
Leading 9-2 in the fifth, the Saints turned to right-handed pitcher Saxon Andross (Cal State Los Angeles) on the mound. After giving up a leadoff triple to San Diego designated hitter Ben Davidson, Andross was able to minimize the damage and get out of the inning after only allowing a sacrifice fly by second baseman Jack Early.
Jag Burden (UC Berkeley) led off the bottom of the 5th inning with a double down the left field line, putting himself in scoring position. He didn't stay there for long, as catcher Bo Willis (Weatherford) promptly drove him home for the Saints tenth run of the night.
Dominick DiRado (Binghampton) pitched a scoreless eighth with one strikeout, and Daniel Ritcheson (San Diego State) struck out the side in the ninth to close the game out and give the Saints the 12-3 victory.
The Saints will take on the Ventura County Pirates on Tuesday night at Jackie Robinson Memorial Field, with the first pitch scheduled for 6:05pm.
—
Contributors

Saints Reporter Lucas Banks

Saints Photographer Bailey Cowling

Saints Videographer Brandon Lin
What to Read Next