News
Saints Squander Strong Outings By King And Cornwell, Feeling The Blues After 9th Inning Walk-Off In SLO
By Arroyo Seco Saints July 06, 2019 02:05pm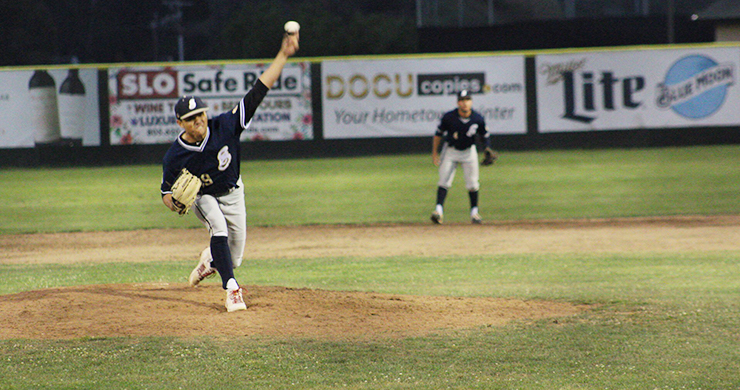 SAN LUIS OBISPO, CA – The Saints fell short against the San Luis Obispo Blues after they lost their second consecutive game in the bottom of the ninth.
Right-handed pitcher Colin King (Regis) started the game for the Saints throwing five complete innings with six strikeouts allowing just one unearned run. First baseman Pete Derkay (Tennessee) scored the first run of the ballgame in the top of the second on an RBI groundout from catcher Matt Thomas (Harvard).
In the bottom of the third, the Blues scored on a throwing error to tie the game at one. However, the damage was minimized after King picked-off the runner at second base. King continued to dominate on the mound in the bottom of the fourth by striking out the side.
In the top of the fifth, shortstop Drew Cowley (Pomona) helped the Saints regain the lead by crushing a home run over the right field wall. Alex Cornwell (USC) replaced King on the mound in the top of the sixth, throwing two and one-third innings with six strikeouts of his own.
The Blues tied the game up in the bottom of the eighth forcing the Saints into making a pitching change. With the bases loaded and one out, Zachary Griggs (UTSA) entered the game and retired the lone batter that he faced before being replaced by Grant Young (USF). Young would strike out the final batter of the inning, bailing the Saints out of a bases loaded jam.
In the bottom of the ninth, Justin Kleinsorge (Regis) replaced Michael Hendricks (Lee) on the mound with the go-ahead runner on first and no outs. The Blues would score the game winning run on a weakly hit ground ball giving them the 3-2 victory.Despite the result, the Saints received impressive performances from King, Cornwell and Cowley. Cowley finished the game 2-4 from the plate with a home run and a single. Derkay also had two hits in the ballgame and scored after reaching second on an error in the top of the second.
The Saints will be back in action tomorrow afternoon against the C0nejo Oaks in Thousand Oaks, CA with first pitch scheduled for 4:30 p.m.
What to Read Next