News
Close, Competitive Game Goes To Oaks
By Arroyo Seco Saints July 18, 2018 12:30am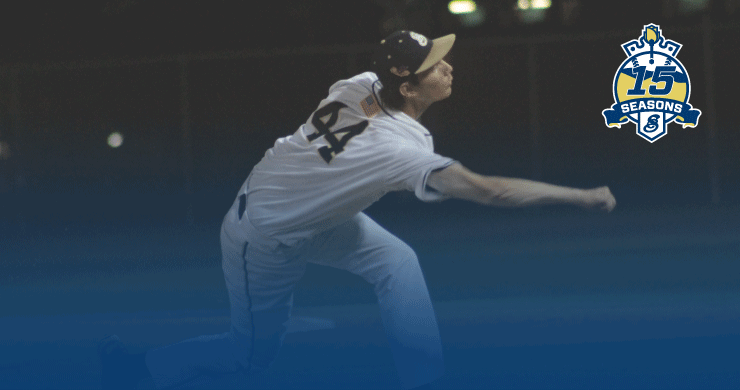 Article by Megan Taenaka; Photo by Emily Moran
PASADENA, CA – The Arroyo Seco Saints and Conejo Oaks traded runs back and forth on Wednesday night before the Oaks took the lead in the fourth to take the game 7-5.  Although it was not the outcome the Saints had hoped for, there were highlights in the form of infielder Angelo Armenta and right-handed pitcher Brian McConnell.   
The Saints were on the board first, beginning in the second inning with a two-run home run to left by Armenta that brought John Thomas, who had reached first base on an error, home.  The Oaks responded with a solo home run to cut the Saints' lead in half in the top of the third.  In the bottom of the inning, the Saints regained the lead thanks to an RBI double to right center field by Nic Lacayo and an RBI single by Armenta to make the score 4-1.  Once again, the Oaks responded with another solo home run, as well as a 2 RBI triple line drive to left and an RBI single in the fourth that put them ahead 5-4.  Mark Tindall then came in to replace starting pitcher Reed Osborn and was able to get the final out to end the inning.
The Oaks added to their lead in the fifth due to an RBI double and a run scored on an error.  The sixth was a scoreless inning for both teams, with Jacob Jenkins taking the mound for the Saints.  Brian McConnell then replaced Jenkins in the seventh inning and was able to stop the Oaks from further increasing their lead.  The Saints attempted a comeback in the bottom of the seventh with a solo home run to center by Tristan Peterson that shrunk the Oaks' lead to 7-5, but the inning came to an end with no other runs.  McConnell returned to the mound in the eighth and impressed with three strikeouts.  Ultimately, the Saints were unable to score any more runs in the bottom of the eighth and ninth, bringing the game to a close with a final score of 7-5.
NEXT UP
John Thomas and Joey Steele will be representing the Saints at the 2018 CCL Prospect Game at the MLB Youth Academy in Compton, CA, which will air on Fox Sports West at 7pm Wednesday night.  The Saints return to action on Thursday against the Conejo Oaks at 4:30 P.M. at California Lutheran University.   
What to Read Next