News
Saints Fall to Oaks Despite Strong Outing by Starting Pitcher
By Arroyo Seco Saints July 19, 2018 11:40pm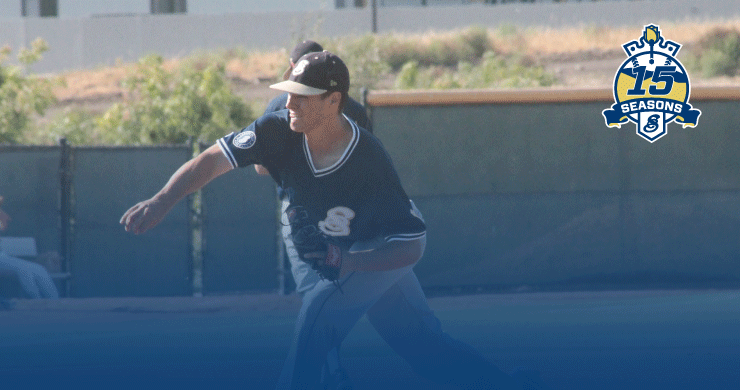 THOUSAND OAKS, CA – The Arroyo Seco Saints' starting pitcher Charles Peacock had a very strong outing Thursday evening, but the Saints offense was unable to get going, leading to a score of 7-1 in favor of the Conejo Oaks.
Peacock got off to a rough start, giving up three runs in the first inning but he settled down shortly thereafter.  He was able to get out of the inning with no further runs scored and two strikeouts.  The second inning was scoreless on both sides, and Peacock continued to be in command with four more strikeouts.  He added two additional strikeouts in the bottom of the third, keeping the score at 3-0. 
In the top of the fourth, the Saints put their first and only run on the board when Tristan Peterson singled to center, allowing Mitch Kerner to score.  The fourth was also Peacock's last inning, and he made the most of it with two more strikeouts to bring his grand total to 10 for the night.  Bobby Fulkerson replaced Peacock in the fifth, giving up only one run in two innings pitched and recording one strikeout.  The Oaks really pulled away in the seventh with three more runs to lead 7-1, which would ultimately be the final score, as no more runs were scored in the eighth or ninth innings. 
HE SAID IT
Head Coach Sean Buller [on Charles Peacock's performance]: "He found his groove. I mean ten strikeouts in four innings against a good hitting team.  He looked fantastic. He got into his groove and had the ability to throw that breaking pitch whenever he wanted to.  He was able to spot up the fastball, and he finished strong and gave the Saints a good chance to win."
Starting pitcher Charles Peacock [on what worked for him this game]: "I just got the breaking ball working. Coach Troupe talked to me, told me to get out front more, and after that [the Oaks] really couldn't find it or hit it, so it worked."
NEXT UP
The Saints are back at home at Jackie Robinson Memorial Field for a Friday evening match against the Orange County Riptide at 6:05 P.M.
What to Read Next