News
Saints Fall To Oaks 7-3 At Cal Lu
By Arroyo Seco Saints July 22, 2019 09:59am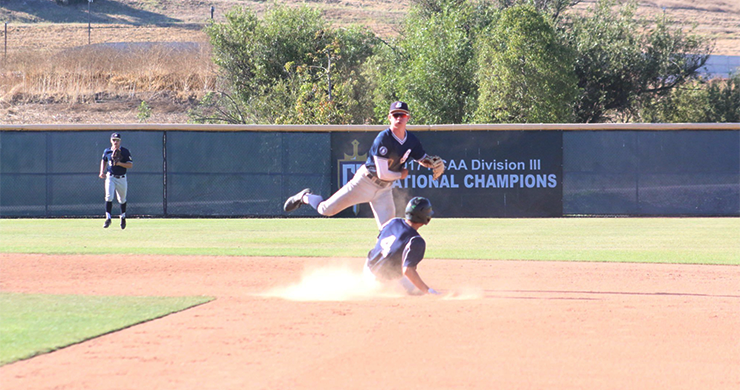 THOUSAND OAKS, CA – The Arroyo Seco Saints headed to Cal Lutheran University on Sunday, where they fell to the Conejo Oaks 7-3.
The Saints jumped on the board in the first inning to take the lead. Right fielder Anthony Forte (Richmond) was walked and later scored on second baseman Morgan Allen's (St. Edward's) double to center field.
The Oaks tied the ballgame up in the bottom of the second.
Saints' starting left-handed pitcher Eli Riechmann (Texas Tech) pitched four innings, while only allowing one run. He was relieved by right-handed pitcher Trevor Davis (Cornell) in the fifth.
The Oaks scored three runs in the bottom of the fifth to gain the lead.
In the sixth inning, shortstop Drew Cowley (Pomona) hit a hard grounder into center for a single. Designated hitter Thomas Luevano (San Diego) then smashed a line drive all the way to the right field fence for a double, scoring Cowley.
"I was just trying to shoot something the opposite way, try to catch a gap, and hit it as hard as I can," Luevano said. "Their pitcher was throwing a little bit slower, so I was trying to be a little bit late on the pitch. He left a fastball up and it was slow, so I got the barrel out and hit it to right field."
In the top of the seventh, left fielder Evan Russell (Tennessee) blasted a double down the left field line. He was able to score off Forte's sacrifice fly to left.
Left-handed pitcher Jamie Robertson (Emory) made his way to the mound in the seventh to relieve Davis.
In the bottom of the seventh, center fielder Christian Scott (Tennessee) made an impressive diving catch to get the second out of the inning. However, the Oaks managed to score three runs that inning, ending the game with a 7-3 victory.
 "The way that we ran the bullpen out, the matches weren't correct," head coach Aaron Milam said. "But we get to benefit because we now are intact for the end of the week and that is what we are trying to do, play our best baseball on Thursday and then try to do it again on Friday." 
The Saints will return to Jackie Robinson Memorial Field on Tuesday where they will resume their matchup against the Santa Barbara Foresters that took place on July 11th, the first pitch will be thrown at 5 p.m. After, the two teams will compete in their regularly scheduled game.
 — 
Saints Reporter Grace Mikuriya

Saints Photographer Riley Watson

View the live stream of the game on the Saints' Youtube channel
What to Read Next