News
Saints Fall Short Following Back-And-Fourth Battle With Riptide
By Arroyo Seco Saints July 14, 2017 12:00pm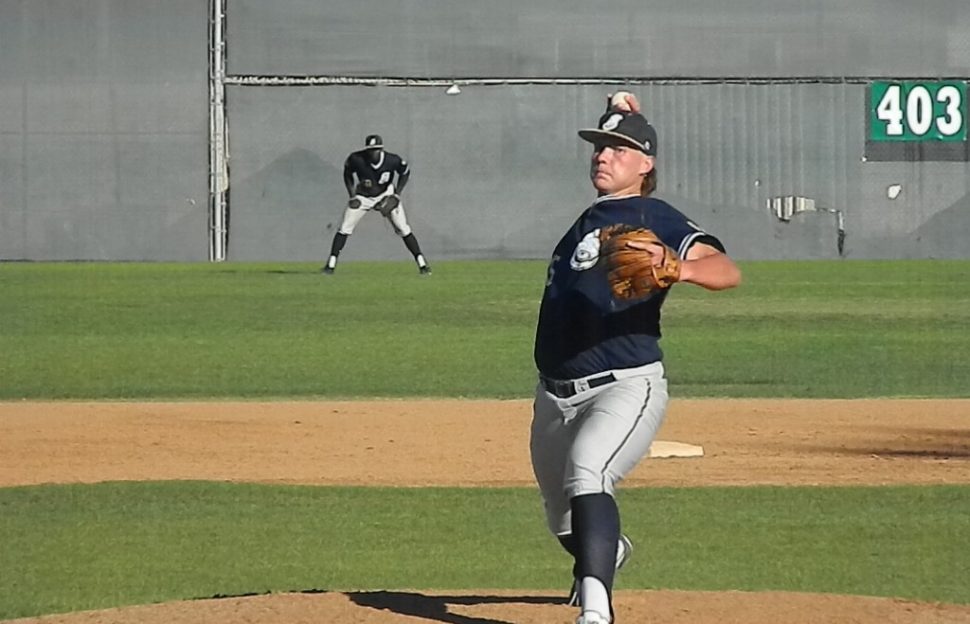 Brandon Rodriguez | Arroyo Seco Baseball Insider
The Arroyo Seco Saints lost their second straight game on Thursday, as the Orange County Riptide would lead a comeback to win 4-3. With this loss, the Saints and the Riptide are 3-3 against each other this season. However, the Riptide are now pulling away in the CCL Southern Division as they ride a six-game winning streak.
The Saints played a very solid game on both sides of the field, but little mistakes would cost them later in the game.
"It was a combination of us getting beat, but also not taking advantage of opportunities given to us," Saints head coach Anthony Chevrier said.
In the top of the third, the Saints would strike first, as Gabriel Chavez (CSU San Bernardino) would steal third base, but an overthrow from the Riptide's catcher would allow him to run home for a 1-0 lead.
At the bottom of the third, the Riptide would hit a grounder to bring one of their basemen home, tying the game at one a piece. Orange County would score again in the fourth to take a 2-1 lead in the game.
Yet the Saints would answer back quickly as Chavez would hit an RBI to bring first baseman Tyler Durna (UC San Diego) home, tying the game once again, 2-2. In the seventh, the Riptide would walk a batter with bases loaded, giving the Saints a 3-2 lead.
This lead would not last long in this back-and-fourth battle, as the Riptide would hit a double to center field, bringing in two Riptide runners, and giving them a 4-3 lead. That score would not change as the Saints would not be able to come back in the ninth.
"It was a long game for everyone and it's a constant grind. We were focused through all nine innings. We just want to bounce back," Durna said.
Some players such as Chavez admitted that the game was frustrating at times, being in a constant back-and-fourth battle.
"It is pretty frustrating," Chavez said. "Our pitchers did their job. Some balls that were placed in the outfield were tough to get to, so we could have done a better job. We look to clean that up."
However, the team fully expected this game to be a battle between Orange County, as the two teams have been pretty evenly matched with each other all season.
"They come out and compete with us," Durna said. "The competition is fun and we haven't always had the greatest games against them, but baseball is baseball."
This matchup could have also had a completely different result, as some Saints players have left due to injuries or personal circumstances. This has limited the rotation for the Saints over the past week.
"Summer ball is a grind…guys are tired and beat up. This game can make you want to give up and quit at times because it's so mentally straining. I let the team know that these are times you dig deep, commit yourself to working harder and trust the process by allowing it to play out through competition," Chevrier said. "We are all in it together, and whatever we got to do to stay healthy and get through, we're here for them."
The Saints still have a lot of fight in them this season and look to get back to their winning ways soon. Players such as Chavez fully believe in the team despite the setbacks that have occurred.
"The guys still here on the team have a lot of heart and I give them props for sticking it out. Being away from home is always tough for these guys," Chavez said. "Hopefully we stay healthy because we have a really good squad."
The Riptide are now 18-8 in league play this season, and now have a strong lead in the Southern Division of the CCL. The Saints follow behind them at second place with a 12-11 league record this season.
The Saints look to gather two wins tomorrow in Long Beach against the Legends, as they will resume the game from June 22, which was called after the two teams remained tied 3-3 after the 12th inning of play. The conclusion of the June 22 game will begin at 3 p.m., and the start of tomorrow's full game between the Saints and Legends will be at 4:30 p.m. at Long Beach City College.
What to Read Next