News
Saints Fall Just Short To Barons In Hard-Fought Comeback
By Arroyo Seco Saints June 10, 2017 10:17pm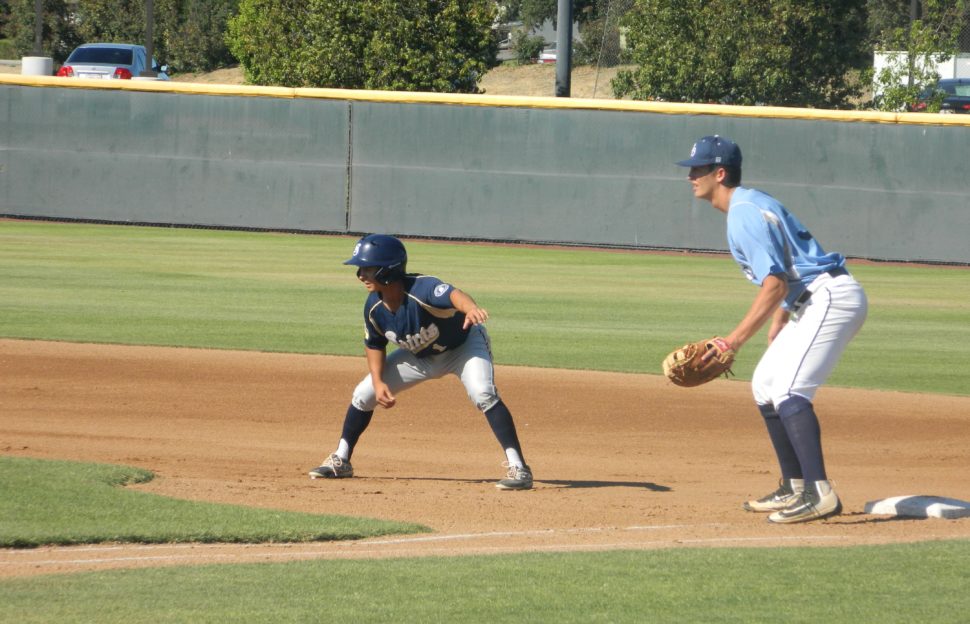 Brandon P. Rodriguez | Arroyo Seco Baseball Insider
The Arroyo Seco Saints came within inches of tying the MLB Academy Barons in order to force extra innings. The Barons would defeat the Saints 7-6 in a hard-fought matchup, bringing Arroyo Seco their second consecutive loss of the season.
"Today was a game where we were chasing all game long," Saints head coach Anthony Chevrier said. "Whenever we scored a run, they would punch back and kill our momentum a little bit. We were constantly chasing the entire game and they did a little bit better job than us at the end."
The Barons made their statement early in the game, scoring the first run of the game in the first inning. The Saints would score in the bottom of the first off of a Blake Burton (University of Washington) RBI single that would bring a runner on third back home, tying the game at one a piece.
In the second, outfielder Greg White (North Carolina A&T University) was brought home by a Mitch Kerner (Emory University) RBI single, giving the Saints a 2-1 lead. The lead would not last for long however, as the Barons would quickly come back in the top of the third and score two runs due to a balk and a missed pitch by the Saints, giving them a 3-2 lead. The Barons never looked back, and the Saints looked to play catch-up.
Kerner would have a decent day at the plate as he constantly found a way to get himself on base, scoring two runs and also hitting one RBI single.
"Hitting can be hard, but when guys are hitting, it's kind of contagious," Kerner said. "You just want to get the next guy up and do your job. That's all it comes down to."
Both teams would score one run each in the fourth, and the Barons DH Jason Wallace would tack on an RBI single in the fifth to give the Academy a 6-3 lead. With the Saints pitching and infield struggling, the Arroyo Seco batters looked to shift momentum, as they gathered more hits on the Barons' pitchers.
Arroyo Seco third baseman Gabriel Chavez (Cal State San Bernardino) had a phenomenal day at bat for the Saints, going four for five at bat, hitting two doubles and tacking on an RBI. He explained that he knew what was coming his way and that he was prepared for it.
"I was sitting on their fastball because I knew what was coming and when they were throwing it, so I was prepared for it every single time," Chavez said. "I was seeing the ball really well. My timing was on and they were practically letting me hit it."
Chevrier has coached Chavez for two years and believes that he will continue to play a huge role for the Saints throughout the season.
"Gabe is a great ball player," Chevrier said. "I'm sure that his whole life he's probably been considered undersized, but he has proved on a consistent basis that he is a baseball player. This is my second year coaching him, and he can play deep, defense, put the ball in play, bunt, and make the throws. I know for a fact that he'll be a big piece of the puzzle for our offense."
Chavez would hit a sacrifice fly to bring home Kerner in the sixth, cutting the Barons lead to two. In the eighth, Spencer Mossburg (Lee University) would hit an RBI single that would bring Bryan Smith (Occidental College) home, making it a one-run game.
In the final inning, the Barons would hit an RBI double deep to right field, leading to a score, giving them a 7-5 lead over the Saints. Arroyo Seco had their chance to win the game after a few batters were walked, eventually leading to the bases being loaded. With two outs, the Saints were able to score one more run, making it a one score game again, but they were kept from tying the game due to a pop-up that ended the game.
At the end, the Barons had 12 hits in the game compared to the Saints having 11. One notable difference were the runners that were left on base – the Barons only had left eight runners on base, while the Saints had stranded 14.
"We started off pretty flat to be honest, and we needed more momentum to pick us up and into the game," Chavez said. "We allowed too many unearned runs and without those, we would have easily have had this game. We put the ball in play really well and both teams played a good game."
The Saints struggled defensively against the Barons, but this was partially due to some fatigue from the players and multiple injuries within the Arroyo Seco infield. These injuries have
forced the team to pull up a few outfielders, and play them on first or third base.
"We had a few guys in their secondary position and we had a few guys that had some fatigue as well," Chevrier said. "What's exciting is the opportunity to get better every day. We've been together for about five or six days, and we're all getting to know each other's skill sets, we're seeing how we function best."
Chevrier also said that the key to success for the team is consistency – if the team can win at least two of the three phases between defense, pitching and offense, they will be in a good position to win games.
"We didn't do a great job in limiting defense out there, but we battled pretty hard. We just didn't quite capitalize when we needed to, but overall it was not a horrible day. We are going to continue to get after it tomorrow," Kerner said. "We just have to clean it up again. The first couple of games were really clean for us – we were playing good defense – we just got to stick with that and timely hitting."
The Saints are now 2-2 this season. They will look for redemption against the MLB Academy Barons in a rematch which will take place at the MLB Urban Youth Academy in Compton, Calif. at 12 p.m. tomorrow.
What to Read Next