News
Saints Fail to Comeback After Early Deficit to Barons in 10-2 Loss
By Arroyo Seco Saints June 18, 2023 11:21am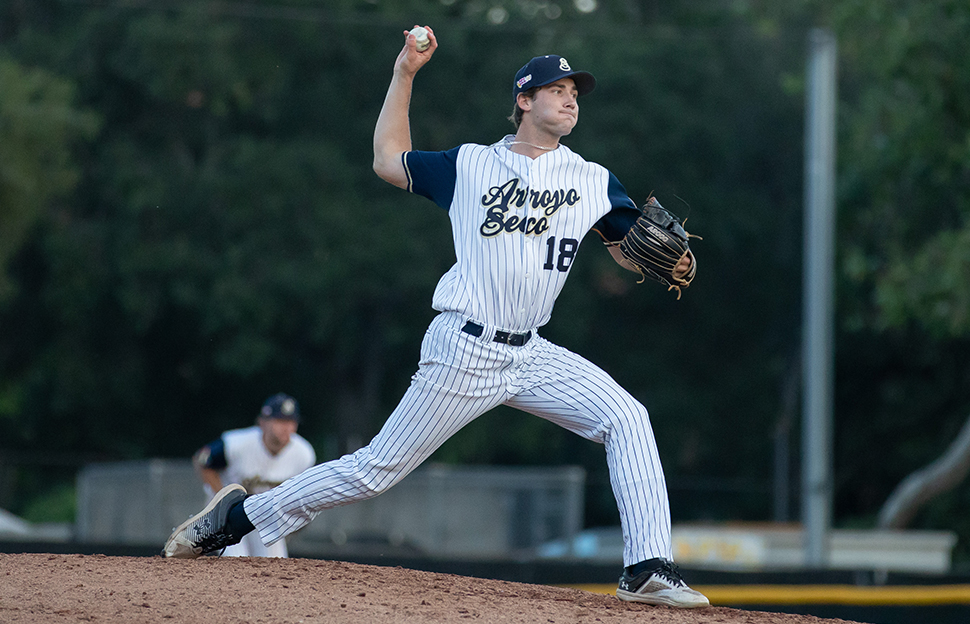 PASADENA, CA – After a thrilling win against the Barons in Friday night's matchup, the Arroyo Seco Saints could not keep the momentum going in their home matchup against MLB Academy. After falling behind early, great pitching from the MLB Academy Barons made it difficult for Saints batters to get things rolling.
USC commit Kalani Santons pitched five innings for the Barons, the furthest the Saints have battled against a pitcher all season. The recent high school graduate proved he could compete with the best of the best in tonight's game, allowing only two runs and five hits.
The two runs for the Saints came early in this matchup. With the bases loaded in the bottom of the second, Richie Morales (Arizona) delivered a single that would put the Saints on the board. Unfortunately for the Saints, this RBI single would provide the only run of the inning. Runners left on base are the story of the Saints night in this one, leaving 11 runners on.
The Saints would add another run in the third by way of a fielders choice; Jaime Perez (Tarleton State) put one on the right side of the infield that was able to bring in Max Blessinger (Belmont).
The most significant change in Friday night's matchup and Saturday's was the base running for the Saints. In a winning effort Friday, the Saints swiped 11 bags against the Barons. In a losing effort Saturday, the Saints mustered only two. Aggression on the base path has been the season's story for the Saints, we've seen it pay off in games, and we've seen it be their Achilles heel.
While the Baron's bats were hot most of this matchup, the Saints did get a solid relief outing from Cade Swenson (New Mexico State). In the right-hander's three innings pitched, he gave up only two hits and one run. Middle relief pitching for the Saints continues to be a true strength for this team.
The Saints look to bounce back in the fourth game in four days Sunday night at home. The Orange County Riptide travel to Jackie Robinson Memorial Field for a matchup against the Saints on Father's Day in Pasadena.
Tune into the matchup live on our Youtube Channel!
Contributors:
Saints Reporter Bennett Snyder 

(Ohio University)

Saints Photographer Sonny Tapia (Cal State Long Beach)
What to Read Next