News
Saints Explode Offensively Then Fall in Walk-Off to Oaks 7-6
By Arroyo Seco Saints June 08, 2019 11:34pm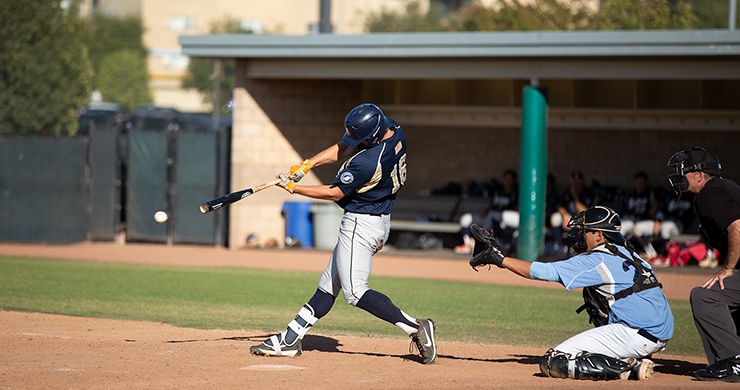 THOUSAND OAKS, CA – The Saints jumped out to an early 6-0 lead after scoring six runs on six hits in the top of the first. Thomas Luevano (San Diego) scored on a one out single by Luc Lipcius (Tennessee) to take an early 1-0 lead. Charlie Harrigan (Miami) reached first following an error that allowed both Nolan Tressler (Georgia Southern) and Lipcius to score. Jacob Wyeth (Cisco) extended the Saints' lead to five with a two RBI double to score Harrigan and Morgan Allen (St. Edward's). Wyeth would score from third after a failed attempt to throw out David Reyna (Arkansas Monticello) stealing second.
Hayden Harris (Georgia Southern) started the game on the mound for the Saints, pitching three innings allowing just three hits and one run with four strikeouts. Michael Hendricks (Lee) pitched a single inning of relief allowing just one hit in the fourth inning.
In the bottom of the sixth, Canejo Oaks scored two runs off of Justin Kleinsorge (Regis) to cut the Saints lead to just three. Race Gardner (Hawaii Hilo) pitched two innings allowing three runs. The Saints and Oaks entered extra innings tied at six before Canejo's Trent Mackinney drove in the game-winning run off of Michael Garza (Incarnate Word).
The Saints were unable to clinch their third consecutive victory after losing 7-6 in extra innings against the Canejo Oaks at Cal Lutheran's George "Sparky" Anderson Field.
The Saints were led offensively by Wyeth who went three for five from the plate with two doubles and two RBI with a run scored.
"I'm not disappointed about the way that the loss occurred, because I think that we were in a position to keep compounding," said head coach Aaron Milam.
The Saints will return to the diamond tomorrow, June 9, at noon against the Orange County Riptide at the Great Sports Park in the city of Irvine.
—-
Saints Reporter, Armen Shrikian; Saints Photographer, Garrison Pena
View the live stream of the game on the Saints' YouTube channel.
What to Read Next