News
Saints Drop Season Finale to Blues 4-3
By Arroyo Seco Saints August 01, 2022 11:25pm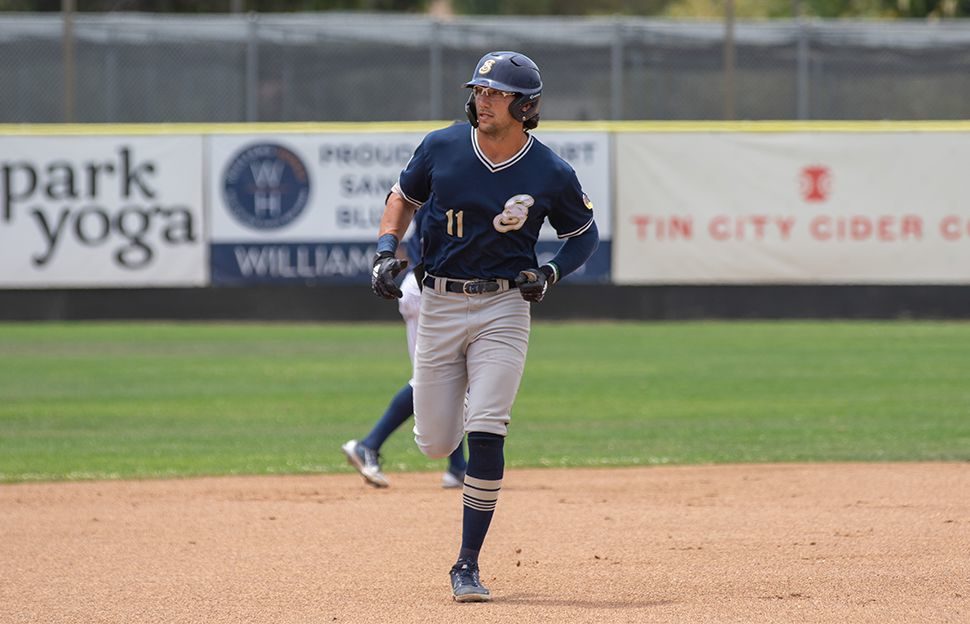 SAN LUIS OBISPO, CA – A pair of bombs from shortstop Kyson Donahue (Hawaii) wasn't enough for the Saints, as they were edged by the Blues at Sinsheimer Park in their last game of the 2022 season. 
Donahue didn't waste any time, launching a 3-2 pitch over the left-center field fence and putting the Saints up 1-0 in the first inning. During the next frame, Peyton Holt (Arkansas) reached base via an error by Blues shortstop CJ Masciel (Cal Baptist). But Holt wasn't finished, as he swiped his 15th and 16th bags of the summer before being scored by a Matt Marlow (Regis) single. 
The Blues went on to post a four-spot in their half of the second to take a two-run lead, but Kyson Donahue responded during the next inning. In a 1-2 hole, the Honolulu, Hawaii native sent his second bomb of the game into right field to bring Arroyo Seco back within a run. Donahue, who finished his day going 2-3 at the plate, couldn't put his finger on what was going right in the batters' box, but said that he stuck to his approach and tried to keep things simple. 
"Just seeing the ball well, sticking to my approach and just not trying to do too much," explained Donahue. 
The Blues bats stayed quiet for the remainder of the game, thanks in large part to dominant relief pitching from Caleb Reyes (Occidental College) and Cole Dale (UC San Diego). In 4.0 total innings pitched, the duo struck out a combined seven Blues without allowing a single baserunner. 
While a late rally wasn't in the cards on Sunday and the Saints ultimately fell 4-3, assistant coach Sergio Plasencia said that his team was mainly focused on soaking in one last game together. 
"I think just enjoying one last game with each other was the mood. Obviously, I think when it comes to the win-loss record, it didn't really reflect what this team had done," Plasencia said. "But the camaraderie… these guys just wanted to play one more game with each other, and you saw them come out and play the game the right way." 
A direct result of the Saints' camaraderie was their success on the basepaths. Arroyo Seco finished Sunday's game with three stolen bases, increasing their season total to a league-leading 123. Plasencia, who put a large emphasis on swiping bags throughout the summer, attributed the outrageous number of steals to the squad simply buying into their coaches' philosophy. 
"It was a buy-in to a process, a formula that we had, that this team really bought into. As you saw, it wasn't one guy, it was basically everybody up and down the lineup that wanted to learn something new this summer… they just trusted it and rolled with something new," said Plasencia. 
With the loss, the Saints end their 2022 campaign with an 18-20-2 record (15-18-1 conference), good for a 4th place finish in the CCL South. Stay tuned for end-of-season content on the Saints' social media accounts in the coming days. 
—
Contributors:
Saints Reporter Sean Brennan (Arizona State)
Saints Photographer Angie Martinez (Mount St. Mary's)
What to Read Next