News
Saints Drop Game Two Against the Oaks
By Arroyo Seco Saints July 17, 2023 02:26pm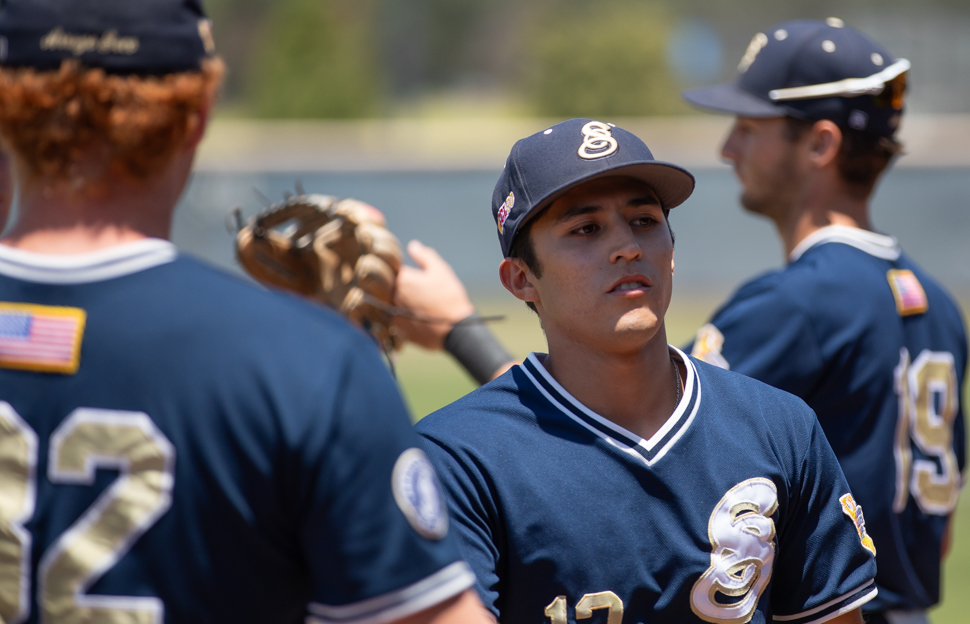 THOUSAND OAKS, CA — Coming off a 16-3 win against the Conejo Oaks Saturday night, the Arroyo Seco Saints were looking for another offensive frenzy in game two of the series. Despite taking a close lead early on, the Saints fell behind and were unable to catch up. 
The Saints found the board in their first at-bat of this matchup. Max Blessinger (Belmont) knocked a single into left field, later making his way to third on an overthrow. A hard hit ground ball from Raider Tello (Iowa) brought the run in. 
An error from the Saints infield put a runner on in the second, and a double from the next batter scored the tying run. The Oaks would manage to score a run per inning for the next three at-bats. 
The Oaks put runners on with two base hits in the third, and the Saints second error of the night allowed the go-ahead run to score. Conejo posted another run the following inning by way of a passed ball. In the 5th, the home team loaded the bases and scored their fourth run of the game on a deep fly ball. 
The Saints' bats came alive again in the sixth, and they seemed poised to score after loading the bases with a walk and two singles from Tello and Roberto Gonzalez (Cal State Northridge). However, the inning ended with the tying run still on base. 
The Oaks scored two more in the seventh, though the latter of the two was the product of a rather controversial call. According to the first base umpire, Blessinger made a sliding catch in center field to end the inning and save the run. According to the Oaks' and their fans, he dropped it. After a brief deliberation between the three umpires, the original call was overturned and the run came in. 
In a last ditch effort, the Saints were able to score a second run in the 9th, after Mason Hammonds (Tarleton State) singled and was brought in on a sacrifice fly. They were unable to manufacture any more runs and finished with a 6-2 loss. 
The Saints will be back in Pasadena On Wednesday July 18 to take on the Santa Barbara Foresters. Tune in to our Youtube Channel at 6:05 p.m. PST to watch live. 
Contributors:
Saints Reporter Sydney Barragan (New York University)

Saints Photographer Sonny Tapia (Cal State Long Beach)
What to Read Next