News
Saints Drop Extra Innings Thriller to Oaks 7-6
By Arroyo Seco Saints July 25, 2022 12:42pm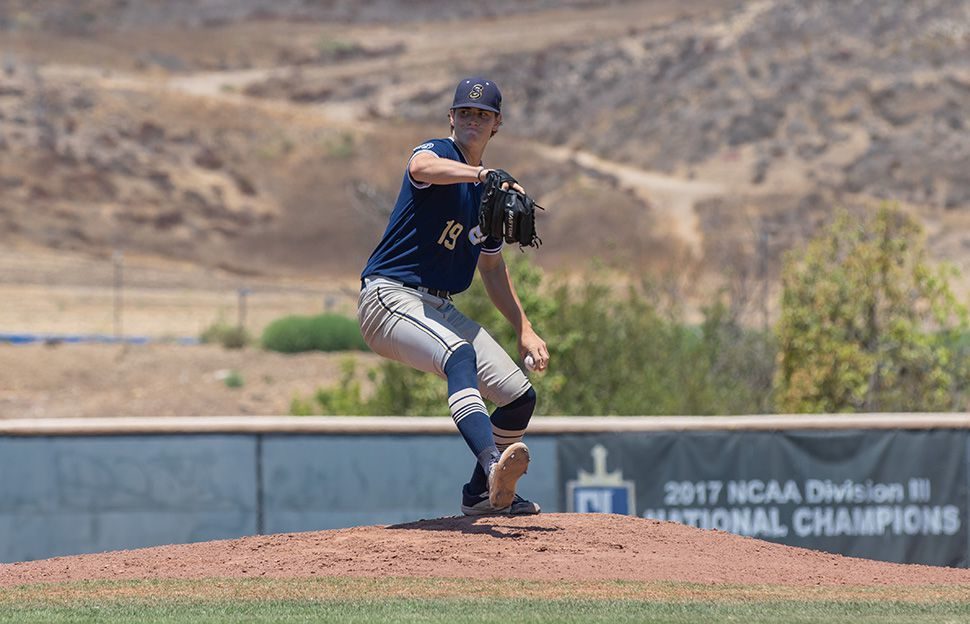 THOUSAND OAKS, CA – The Saints headed to George "Sparky" Anderson Field in Thousand Oaks, Calif. to take on the Conejo Oaks in a Sunday afternoon matchup. Arroyo Seco held a 5-0 lead in the sixth inning, but fell behind by one after the Oaks went on to post the next six runs. While the visitors evened the score with their backs against the wall in the ninth, Conejo catcher Josiah Chavez (Cal Lutheran) ripped a walk-off RBI single down the left field line an inning later, leaving the Saints stunned. 
In his first start of the season, Saints pitcher Chris Stamos (California) set the tone early as he retired two batters via strikeouts in a 1-2-3 first inning. Stamos, who appeared in nine games this summer as a reliever, held the Oaks without a hit until the sixth, dishing out six more Ks in the process. The left-hander finished his afternoon with nine strikeouts and two hits allowed in 6.0 innings pitched, and said that getting ahead of counts is what contributed to his success on the hill. 
"Just getting ahead of guys, I was throwing all four pitches for strikes," said Stamos. "I just wish we could've gotten a win." 
Arroyo Seco's offense also came out firing in Thousand Oaks, as right fielder Matt Wong's (Hawaii) 32nd base hit of the season scored Drew Cowley (Oregon) and broke the scoreless tie in the first inning. After Jack Walker (Louisiana Tech) and Cooper Harris (Wichita State) drew consecutive walks to start the second frame, Cowley slammed a two-run triple off of the right field wall to extend the lead to 3-0. 
In the fourth, Matt Wong and Peyton Holt (Arkansas) got on base by a fielders' choice and single respectively. With Matt Marlow (Regis) up to bat, Josiah Chavez attempted a pickoff that was too high for Oaks first baseman Tyler Ganus (Oregon) to handle, allowing Wong and Holt to cross home plate and give the Saints their largest advantage of the day. 
The momentum began to shift into the home team's favor when they tallied an unearned run in the sixth that ended Arroyo Seco's shutout hopes. Conejo would then post a five-spot during the next inning to put them into the drivers' seat. The Oaks threatened to score again in the eighth until pitcher Donny Smith (Vanguard) made his second appearance of the season and calmed the waters. In an inning of work, Smith struck out two of the three Oaks he faced without relinquishing a single hit, helping his squad stay within a run. 
Down one in the top of the ninth, the Saints needed some late-game heroics to keep them alive. And that's exactly what they got, as Jordan Rogers reached base due to an error and Cowley doubled to put runners on second and third. Kyson Donahue (Hawaii) then sent a sacrifice fly to Oaks shortstop Gavin Grant (Oregon) that bought Jordan Rogers enough time to advance 90 feet and tie the contest with his 22nd run of the summer. 
Three straight strikeouts for closer Jake Porter (BYU) kept the score knotted at six heading into extra innings. During their half of the tenth, the Saints got two men on base in Matt Marlow and Max Blessinger (Pasadena CC), but were unable to cash in. With Austin Carrillo (Cal Lutheran) as the ghost runner on second, the Oaks only needed a base hit to win the game. After Carrillo advanced to third from fielder's choice, Jordan Rogers made a crucial catch in foul territory to bring the Saints within an out of ending the inning. However, Josiah Chavez slammed the second pitch he saw into left field, easily scoring Carrillo and stealing the contest from Arroyo Seco. 
As usual, associate head coach David Feasler was quick to touch on the positives from Sunday's game, as he commended Chris Stamos for a dominant start on the mound. 
"Chris pitched a heck of a ballgame. Chris was really good, he had three to four pitches going for him," Fealser said. "He had a no-hitter through five, Chris was really, really good." 
Feasler also reiterated the importance of having a short memory after tough losses and taking things a day at a time, especially in the midst of a playoff push. 
"It's just what we've kind of been saying all year long; one pitch at a time, one game at a time. We can't think about today when we're playing on Tuesday, we can't think about Wednesday when we're playing on Tuesday," explained Feasler. "We've just got to go game by game, and within each game, pitch by pitch." 
The Saints will have a day of rest before opening a three-game homestand against the Oaks on Tuesday at 6:05 p.m. PST. With the postseason only a week away, the Saints are currently 1.5 games behind the Orange County Riptide for the South Division's final playoff spot, making every contest moving forward a must-win. Stay up-to-date on the action by tuning into the Saints' YouTube and other social media channels. 
—
Contributors:
Saints Reporter Sean Brennan (Arizona State)
Saints Photographer Angie Martinez (Mount St. Mary's)
What to Read Next