News
Saints Defeated by Riptide in Offensive Shootout
By Arroyo Seco Saints July 22, 2022 02:41pm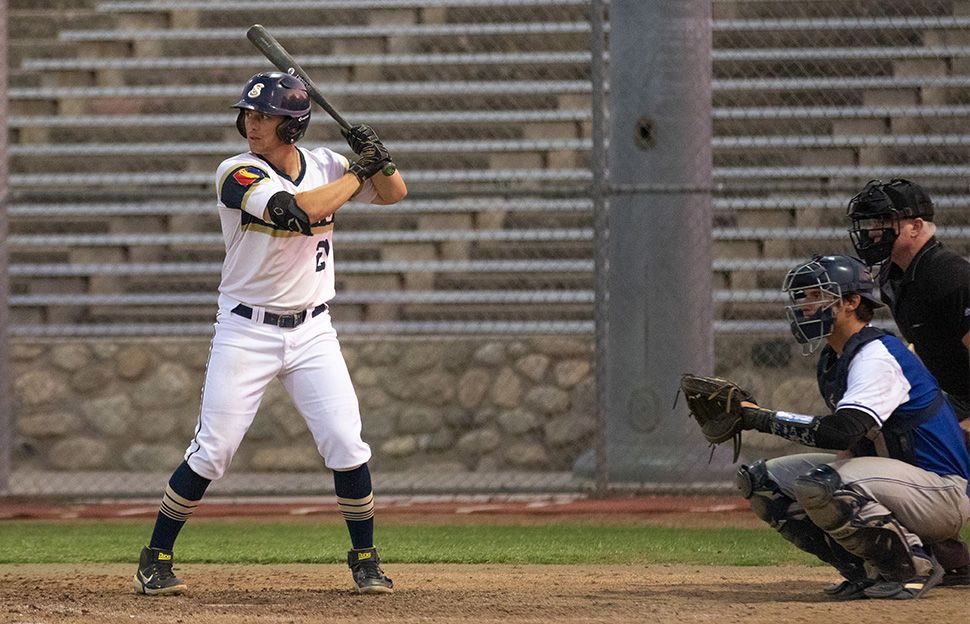 PASADENA CA — As the summer comes to a close the Arroyo Seco Saints are winding down their season, but the boys are still putting in the work on the field. The Saints faced the Orange County Riptide at home on the evening of July 21st in another nail-biter of a game. Tied at 9-9 in the 9th inning, the Saints lost their grip on the Riptide and lost at the very end, 10-9. Despite this tough loss, the Saints still performed well and had a great game with many highlights.  
Opening up on the mound for the Saints was right-handed pitcher Cole Dale (UC San Diego). Pitching the first two innings he struggled against the fierce Riptide batters but still put in the work with a few solid strikeouts. In the first inning up to bat, Saints powerhouse Kyson Donahue (Hawaii) sent one over the fence for a three-run homer, putting the Saints up 3-0 in the first inning. Next, Caleb Reyes (Occidental) entered the game to pitch, and was able to keep the Saints ahead for the next 6 innings. With four strikeouts in six innings, Reyes was able to minimize damage and maintain his team's steady lead. In the fifth inning, Drew Cowley (Oregon) had a huge two-run double that helped the Saints pull away from the Riptide. Cowley, who is a Saints alum, says he loves returning every summer to the Arroyo Seco Saints because,"I have a great relationship with the coaches and this organization. It is close to home and I know that when I come here it will always be a great place to play baseball." Another highlight from the game was when Jordan Rogers (Wichita State) stole the Saints' 100th base of the season. Rogers is known to have fast feet and has been an incredible base runner this season. The players put in the work at the plate and there were several offensive highlights like Matt Wong's (Hawaii) RBI single and Peyton Holt's (Arkansas) two-run RBI single. As coach Aaron Milam reflected on the game, he stated how even though the team had a tough loss, there were still many great plays throughout. He is hopeful for the next games to come and is ready to win and head to the playoffs.
The Arroyo Seco Saints will head to Irvine tomorrow to play against the Riptide again, and are looking to secure a win this time. Follow the game live on the Saints Instagram, Twitter, Facebook and YouTube broadcast. 
—
Contributors:
Saints Reporter Nicola Iannelli (Texas)
Saints Photographer Angie Martinez (Mount St. Mary's)
What to Read Next