News
Saints Cut Down Foresters, 6-3
By Arroyo Seco Saints July 01, 2021 11:53am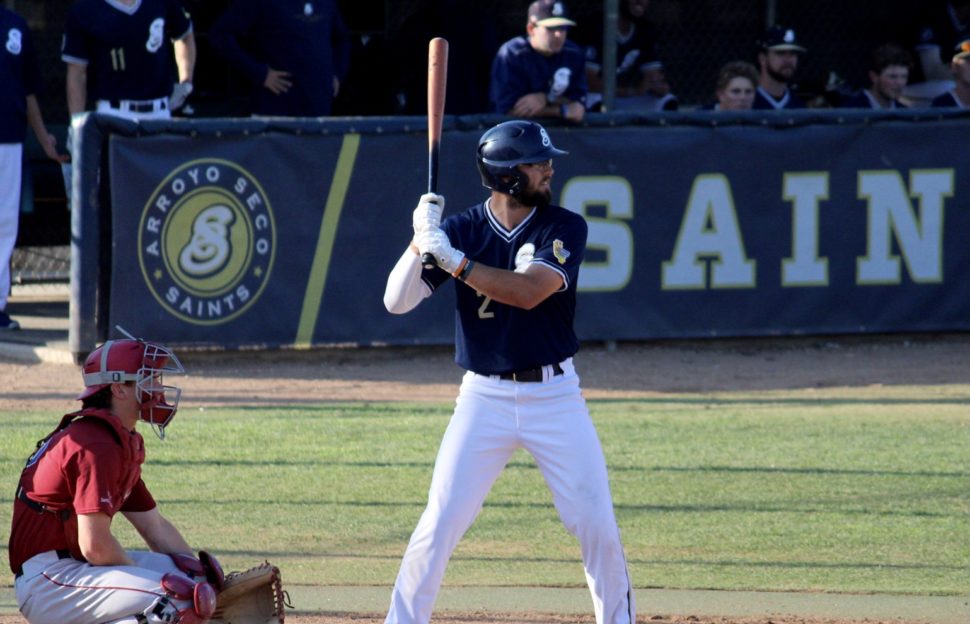 PASADENA, CA - The Saints walked away with a victory over the Santa Barbara Foresters at Jackie Robinson Memorial Field. The Saints held the lead the entire game, rounding out the final score at 6-3.
Jackson Cobb (Texas Tech) hit a two-run RBI single in the bottom of the second inning, bringing home teammates Jag Burden (UC Berkeley) and Cooper Elliot (Wichita State). Cobb advanced to third as a result of Foresters defensive error.
In the next inning, Jake McMurray (Oral Roberts) hit a single to get on base, and eventually made it home after a double hit by Drew Cowley (Cal Poly Pomona) and a single hit by Peyton Lewis (Texas State).
The Foresters put up a run in the fourth inning, but the Saints' defense remained locked in. Starting pitcher Tommy Steier (Creighton) picked up the win after throwing six strong innings allowing only three hits on six strikeouts. This season, Steier has a 3.06 ERA after four games. Tonight's game was his first win of the season.
Kyle Sonduck (UT San Antonio) came in during the top of the seventh inning to relieve Steier, throwing four strikeouts for the two innings he pitched.
The bottom of the seventh inning was a treat for Saints fans as the first two batters up flew around the bases. Brandon Bohning (Cal State Northridge) hit a double to start off the frame. Cobb followed up with a single, and Bohning made it home on an error. Cobb then made it home on another error by the catcher. McMurray rounded out the runs scored in the seventh inning by scoring another run.
The Saints went into the ninth inning with a solid lead, 6-1. Arroyo Seco gave up two runs, but Fino Amador (Cal State LA) was able to close out the night by tossing a strikeout looking.
McMurray produced his best offensive night of the season going three-for-four at the plate. Cobb went two-for-three at the plate as well.
The Saints now improve to 8-6 record and are riding a three-game win streak as they face off against more CCL South opponents.
The Saints will be back at home on July 1, at 6:05 p.m. PST versus the San Luis Obispo Blues. Tune in to the Arroyo Seco YouTube channel to catch the live broadcast or check out the Saints social media to catch in-game action. 
-
Contributors
Saints Reporter Emily Morton
Saints Photographer Angela Martinez and Joe Pohoryles 
Saints Videographer Brandon Lin
Highlights From Saints 6-3 Win Against Santa Barbara Foresters
What to Read Next