News
Saints Cut Down Foresters 6-2: Allen, Pagan Go Deep; Beer, Kleinsorge Deliver On The Hill
By Arroyo Seco Saints July 21, 2019 12:29pm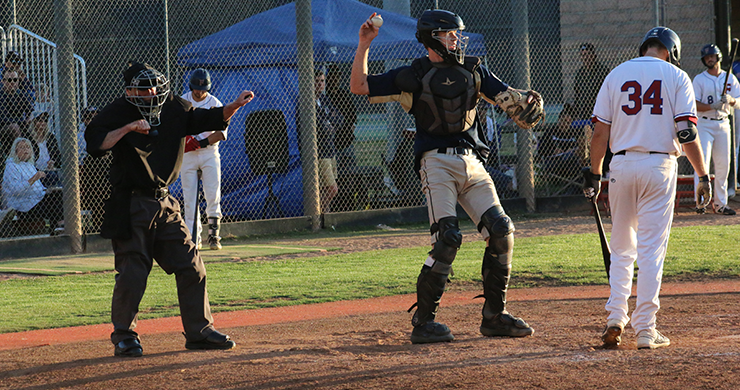 SANTA BARBARA, CA – Morgan Allen's (St. Edwards) three-run home run in the sixth inning helped lift the Arroyo Seco Saints to a 6-2 victory against the Santa Barbara Foresters on Saturday evening.
The Foresters jumped on the board in the first inning scoring one run but the Saints' starting left-handed pitcher Trevor Beer (Santa Barbara) was able to hold them off for four scoreless innings.
In the top of the sixth, the Saints took the lead. Center fielder Christian Scott (Tennessee) smacked a double to center field before right fielder Anthony Forte (Richmond) was walked. With runners on first and second and two outs, Allen launched the ball over the right field fence to give the Saints a 3-1 advantage.
"It was a 3-1 count and I was looking for something to drive. It was inside so I just held my hands in and it happened to go out," Allen said. 
In the bottom of the sixth, the Foresters managed to add one more run to make the score 3-2. However, in the top of the seventh, first baseman Nik Pagan (Hartford) launched a solo homer to increase the Saints' lead by two.
"I was just looking for a pitch to drive," Pagan said. "I got down to a 2-2 count and saw something that he left up and I didn't want to miss it."
Right-handed pitcher Justin Kleinsorge (Regis) relieved Beer in the bottom of the seventh. Beer pitched six solid innings with seven strikeouts and only two runs scored. 
The Saints added their final two runs in the ninth inning. Pagan doubled to the gap in right field before scoring on pinch hitter Thomas Luevano's (San Diego) sacrifice fly. Left fielder Nolan Tressler (Georgia) then hit a line drive single to right and scored the final run of the evening when catcher Matt Thomas ripped a line drive to center field, leaving the Saints with a 6-2 advantage.
Kleinsorge finished his three-inning outing, striking out five of the nine batters he faced while allowing no runs.
"The best thing that happened today was that we didn't go away," head coach Aaron Milam said. "We went down 1-0 in the first, with a leadoff double, and then they had a perfect game on us through five innings, but we didn't panic and just continued to play our game."
The Saints will be on the road again on Sunday as they take on the Conejo Oaks in Thousand Oaks, Calif. The first pitch will be thrown at 4:30 p.m.
—
What to Read Next