News
Saints Come up Just Short, Fall to Blues 5-4
By Arroyo Seco Saints July 03, 2021 11:37pm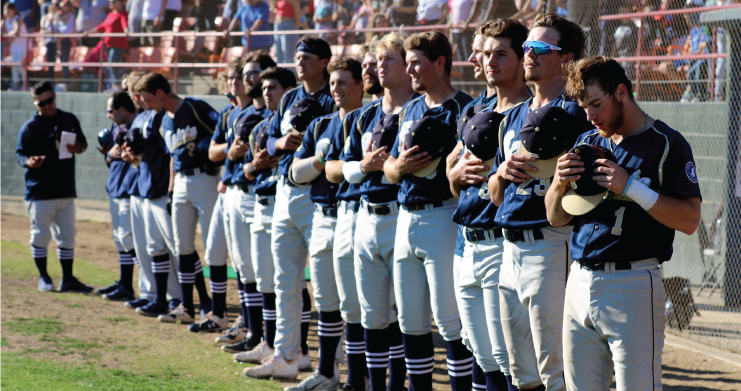 SAN LUIS OBISPO, CA – The fireworks came early, unfortunately they were not in the Saints favor. The story in this one wasn't just the Blues hitters getting to Saints starter Tristan Garnett (Cal State Dominguez) early, but also something all southern Californians know all too well: Traffic. 
After sitting on the bus for five hours, it took a few innings for the Saints to get rolling. Blues fans had access to $3 beers four times (one for every time they scored) before the Saints got on the board. Playing in front of a sold-out, energized crowd at Sinsheimer Park, they didn't score until the fourth inning. Blues starter Vaughn Mauterer (Cal Berkeley) cruised through the first three, giving up only two hits and striking out three batters.
Drew Cowley (Cal Poly Pomona) continued to mash CCL pitching. Hitting over .500 for the week, it was his lead off double that started the Saints rally in the fourth.
"I've been just feeling good at the plate," Cowley said. "Looking for good pitches to hit, and I've been able to get a couple of good swings on the ball."
Following the double, Jake McMurray (Oral Roberts) hit a little dribbler to the right side that left first base uncovered, allowing Cowley to score from third. Later in the inning, with the bases loaded, shortstop Brandon Bohning (Cal State Northridge) hit a fly ball to left, deep enough to score McMurray, and cut the deficit to two runs.
Garnett settled in after giving up three unearned runs in the second, finishing four innings with four strikeouts. He's had some tough luck early on this season, giving up eight runs on the season with only four of them being earned.
The bullpen again came up big for the Saints. Jack Baird (Pepperdine) tossed a perfect fifth inning, before giving up a solo shot to Grant Burton (Stanford) in the sixth. With the bases loaded later in the inning, he got Tate Samuelson (Cal Poly SLO) to pop out to catcher Peyton Lewis (Texas State).
Arroyo Seco had runners on base in eight of the nine innings, but left ten runners on base. They finally got runs across in the seventh. Down 5-2, Connor Bradshaw (Pepperdine) took off for third trying to steal, and came around to score after an errant throw by catcher Austin Schell (Cal State Fullerton). McMurray knocked in Cowley later in the inning with his second RBI single of the night.
However, that was all the Saints would score. Luke Bell (Xavier) finished it out for the Blues, giving them the 5-4 win.
Despite the loss, the Saints played well on Saturday night. They finished the week going 3-2, and are in playoff position in the CCL.
"I think as a team we're still kinda getting used to each other, and I see us starting to get closer as a team," said Cowley. "I thought we played well tonight, and I think that's a good stepping stone into next week. I think we're a really good ball club, and, you know, we'll see what happens this next week."
The Saints have off until Tuesday, when they'll travel down to Orange County to face the Riptide at 6:00 p. m.
—
Contributors
– Saints Reporter Lucas Banks
– Saints Photographer Angela Martinez
– Saints Videographer Joe Pohoryles
What to Read Next