News
Saints Come Back in the Ninth, Walk it Off Against the Barons
By Arroyo Seco Saints July 30, 2021 09:17am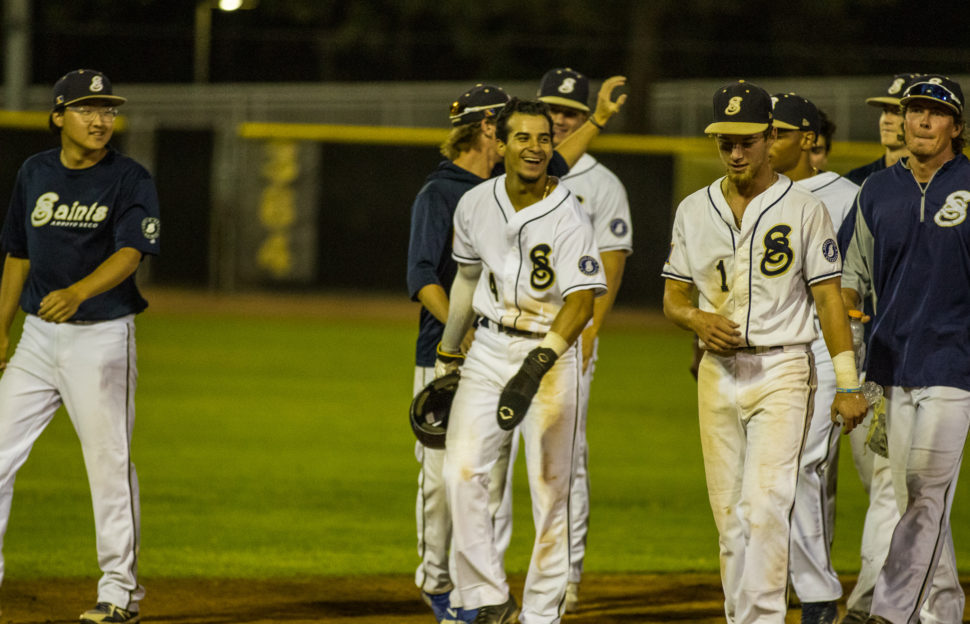 PASADENA, CA - It's not quite the playoffs yet, but Thursday night's game against the MLB Academy Barons had a must-win feel to it. It came down to the wire, but the Saints gutted out a huge 6-5 victory in front of their home crowd for the last time this summer.
After losing four straight, Arroyo Seco turned to their ace, Tommy Steier (Creighton), to get the team back on track.
"It's nice being out here, having all the confidence (that) all the coaches trust in me," Steier said. "Even if I give up two runs there, (they) trust me to go out there and throw six more zeros up. I like that pressure. 
Steier was just what the team needed, as he threw seven dominant innings, giving up just two runs and striking out an astonishing 12 batters.
The Saints scored first in this one, something that they had not done since last Wednesday against this Barons team. Perhaps seeking a spark offensively, head coach Aaron Milam went with newcomer Tommy Castillo (Long Beach State) in the lead off spot, and he produced right away. After Castillo led off with a double, Jake McMurray (Oral Roberts) drove him home with a sacrifice fly to center to give the Saints the early 1-0 lead.
Steier ran into trouble for the first time in the top of the fourth. With runners on second and third, Barons DH James Williams (Santa Ana College) lined a single up the middle to plate both runners, giving the Barons the 2-1 lead.
 That lead would be short-lived, as the Saints came back with two of their own in the fifth. Jackson Cobb (Crowder College) continued his hot streak with an RBI single, his 19th of the season to go along with a .330 batting average. Connor Bradshaw (Pepperdine) knocked Cobb in with a grounder to first to give the Saints a 3-2 lead.
 Besides the fourth, Steier was dominant on the mound. Within those 12 punch-outs, Steier had a streak of five in a row in the middle innings, never allowing the Barons to get any momentum. He had great command of his fastball and slider, using the slider as his kill pitch more often than not.
"Going in today I just wanted to go right at 'em, trust my defense," Steier said. "We have a really good defense back there, so I mean, just throw it in the zone, throw as many strikes as I can."
The Saints would add another run in the 6th on a passed ball, giving them some much needed insurance heading into the later innings. Daniel Ritcheson (San Diego State) came in to relieve Steier, struggling with command early but did a fantastic job to battle back. He allowed a run on a sacrifice fly, but left the Saints with a 4-3 lead.
In the ninth, the Saints looked to Korey Shepherd (Azusa Pacific) to close things out, but he got himself in a jam. With runners on first and second and two outs, Ronnie Belton (Grand Canyon) lined a double into right field, scoring the tying and go-ahead run.
Down by one in the bottom of the ninth, things looked bleak for the home team. But Cobb came up clutch again with a lead-off double. Castillo followed with a bunt single, putting runners at the corners with no outs. Bradshaw then lined an RBI single into left to tie the game, leaving it up to the Saints best hitter, Drew Cowley (Cal Poly Pomona), to win it.
There was never a doubt. Cowley hit a hard grounder to second that Nicolas Malbrough (Mission College) couldn't handle, and as it skipped into right field, Castillo raced around third to score the winning run.
 The win secured the Saints spot in the CCL playoffs next week, something that had been evading them for the last four games. 
"I think we have a solid shot at winning it all, and getting back on track will definitely help us," Steier said.
Arroyo Seco will finish their season out on the road, with a contest tomorrow night in Orange County against the Riptide.
Player of the Game: Tommy Steier
7 IP, 6 H, 1 ER, 12 K
Contributors
- Reporter Lucas Banks
- Photographer Angie Martinez
- Videographer Brandon Lin
Highlights from the Saints 6-5 comeback win against the Academy Barons on Thursday night
What to Read Next