News
Saints Build an Early Lead, Hold on to Beat Oaks 6-3 Amid Playoff Push
By Arroyo Seco Saints July 27, 2022 04:38pm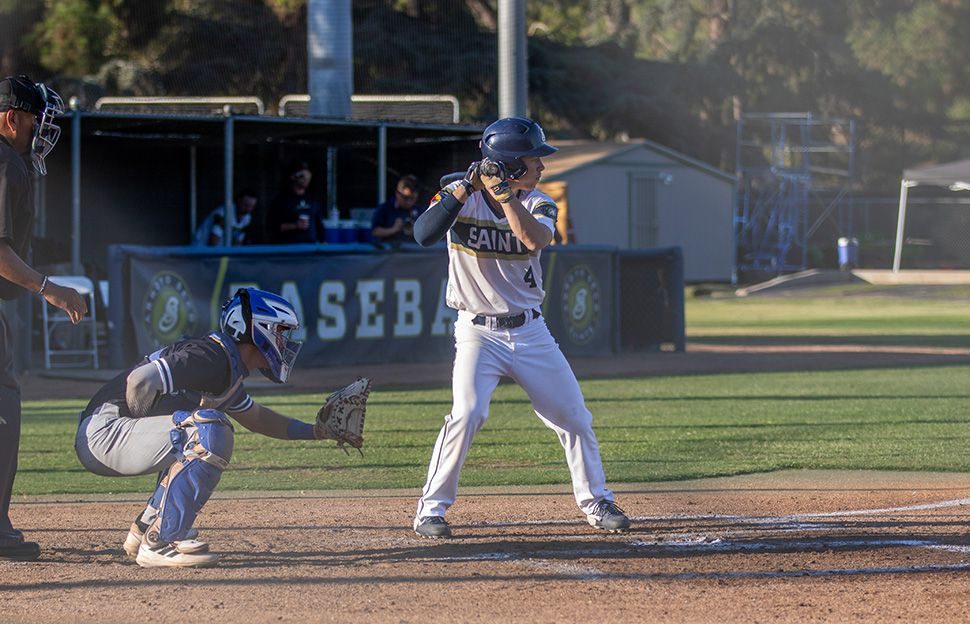 PASADENA, CA – When he took the mound at Jackie Robinson Memorial Field to start the ninth, closer Dom DiRado understood the significance of protecting the three-run lead that the Saints' offense built. He knew his squad trying to qualify for the playoffs for a second straight season means that wins are at a premium. But for DiRado, the implications of Tuesday's contest were merely background noise, as he proceeded to shut down the Oaks and pick up his first save of the year in Arroyo Seco's 6-3 victory. 
The Saints' bats once again got going early when Jordan Rogers (Wichita State), Drew Cowley (Oregon) and Kyson Donahue (Hawaii) recorded consecutive singles and loaded the bases in the opening frame. Matt Wong (Hawaii) then ripped a grounder down the third base line that eluded the glove of Oaks third baseman AJ Salgado (UCLA) and drove in two runs. Two at-bats later, Donahue capitalized on an error to advance 90 feet and put Arroyo Seco up 3-0. 
Max Blessinger (Pasadena CC) capped off the inning with a sacrifice fly to right field that scored Wong and gave the Saints a four-run advantage. 
Conejo came storming back during the third and fourth, logging a combined four hits and three runs to bring the contest within one. However, a dominant relief appearance from Jacob Henderson (Iowa) stymied any rally the Oaks had put together. 
In two shutout innings, Henderson struck out five while allowing only three baserunners. Playing in his 12th contest of the season, the Gilbert, Ariz. native improved his overall ERA to a solid 2.33. 
Arroyo Seco extended their lead in the sixth courtesy of Max Blessinger's RBI double into left field. After a Cooper Harris (Wichita State) sacrifice bunt allowed Blessinger to reach third, the Lancer sophomore took advantage of a wild pitch to cash in and make the score 6-3. 
Right-handed pitcher Anthony Giannette (Louisiana Tech) didn't let the Oaks back into the game, limiting the visitors to a single walk through 2.0 innings pitched. Still up by three heading into the final frame, the Saints called on Dom DiRado to put the finishing touches on a much-needed win. 
The left-hander finished the evening facing three batters and giving up a single hit, but his stats alone don't tell the whole story. 
The leadoff hitter of the inning was Charles Masino (Pepperdine), who sent a screamer right towards the mound that ricocheted off of DiRado's wrist. Masino advanced to first, and the second-year Saints pitcher was visibly shaken up. However, the closer remained in the game and delivered a crucial defensive gem during the next at-bat. 
With a full count, Conejo shortstop Jose Parga (Oklahoma Baptist) lined another missile in DiRado's direction. But this time, the Vestel, New York native gloved the ball and while falling back before picking off Masino at first, capping off an incredible 1-3 double play. After the game, DiRado stated that he had no time to react to the hit but was glad things turned out better than the previous sequence. 
"I just had no time to react. I just threw the glove up and thankfully, I had a better result than the first time, so I'm happy I'm not hurt. I'm feeling good, no injuries, no broken bones so I'm happy," said DiRado. 
DiRado then forced right fielder Tyler Glowacki (San Diego State) to knock a grounder to Peyton Holt (Arkansas), who made the easy throw to first and sealed a massive 6-3 victory for Arroyo Seco. 
Saints assistant coach Riley Conlan had high praise for both DiRado and starter Caleb Reyes (Occidental College), who also continued playing after being hit by a line drive on Tuesday. Conlan also commended his entire pitching staff, saying they did a good job of throwing strikes and not giving up 'freebies.' 
"It was good, it's tackling the zone and just limiting the freebies, limiting the walks," Conlan said. "That recipe of our hitters doing what they can, pitchers throwing strikes and commanding the zone and defense getting their backs, that's a recipe for a W right there" 
With the win over Conejo, the Saints are now a game behind the Orange County Riptide for the South Division's final spot in the CCL State Championship. And Drew Cowley, who has represented Arroyo Seco in two previous CCL postseason tournaments (2019, 2021) believes that his squad playing loose on the field will help them in their playoff push. 
"I think when we have fun, play loose is when we play our best. So just have fun and whatever happens happens, but normally good things happen when we're having fun," explained Cowley. 
The Saints will be back in action on Wednesday for an exhibition game against the Philippines National Team at Jackie Robinson Memorial Field. First pitch is slated for 6:05 pm PST. Follow the action on the Saints YouTube and other social media channels. 
Player of the Game: Max Blessinger (Pasadena CC) 
—
Contributors:
Saints Reporter Sean Brennan (Arizona State)
Saints Photographer Angie Martinez (Mount St. Mary's)
What to Read Next