News
Saints Bounce Back With 6-1 Win Against Blues
By Arroyo Seco Saints June 20, 2023 10:22pm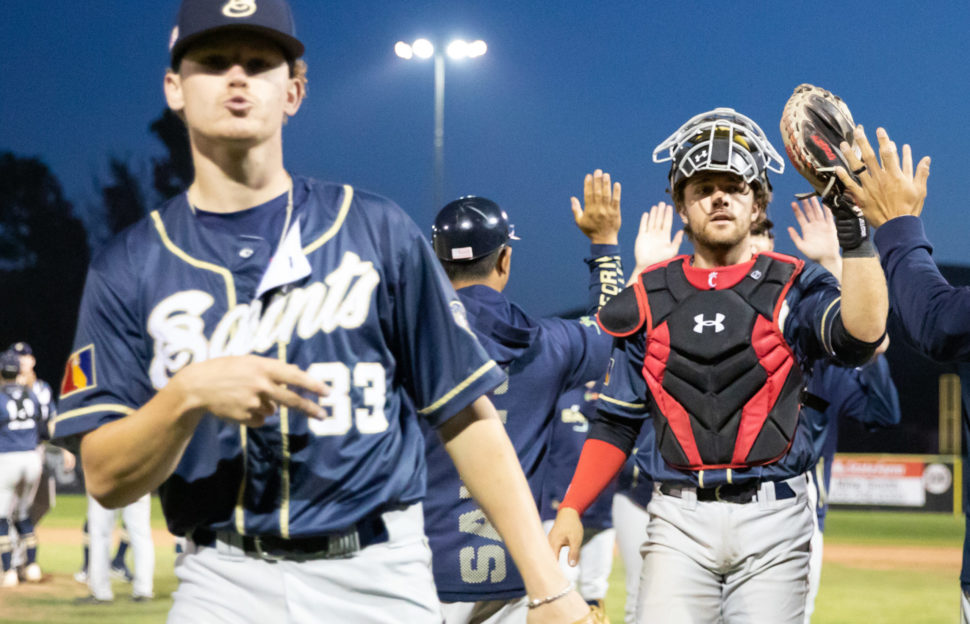 SAN LUIS OBISPO, CA – After a long bus ride from Pasadena to San Luis Obispo, the Arroyo Seco Saints jumped out to an early lead and never looked back. Tuesday night's matchup against the Blues ended as a 6-1 victory for the Saints. 
In front of a packed crowd in San Luis Obispo, coming off a gut-wrenching loss in Pasadena, this Saints team knew they had an opportunity to bounce back quickly. 
"We had the right mentality tonight," said Saints starting pitcher Peyton Cariaco (Kent State). "We knew there was going to be a big crowd, and I think we did a really good job of taking care of that tonight." 
Cariaco pitched the first four innings in this matchup; the left-hander gave up zero runs and struck out three batters. His performance earned a win on his record this season, a well-deserving honor; he has yet to allow a run in his eight innings pitched this season. 
The Saints provided run support early for Cariaco. Despite being out-hit in this matchup 9-4, the Saints took advantage of some mishaps by the Blues' defense. 
It was clear from watching warmups that the field conditions were firm in San Luis Obispo; hard-hit ground balls would be difficult for both teams to field in this matchup. Despite being the road team, the Saints' infield handled the harsh conditions better than the Blues. 
In the second inning, the Saints scored a pair of runs on an error, three runs total. In the third inning, the Saints scored three runs on two errors. While six runs is an impressive number for the Saints' offense, the deciding factor in this game was the difference in defensive performances. 
Despite tallying an error in the boxscore, the Saints' infield had themselves an error-free ballgame. Shortstop Richie Morales (Arizona) had multiple web gems in this game to help out the team's pitchers. 
Relievers Anthony Giannette (Louisiana Tech) and Hayden Lewis (Arizona) wrapped up this matchup for the Saints. Despite not scoring a run after the third inning, the two relievers already had plenty of run support. Giannette allowed one run in three innings, while Lewis finished the game pitching two scoreless innings in the eighth and ninth. 
The Saints look to keep spirits high in Wednesday night's rematch against the Blues. After a five-run win on the road, Arroyo Seco is searching for their first CCL win at home in Pasadena. 
First pitch for this matchup in Jackie Robinson Memorial Stadium is scheduled for 6:05 p.m. PST. Fans are offered free attendance but are also welcome to tune in on our Youtube Channel. 
Saints Reporter Bennett Snyder 

(Ohio University)

Saints Photographer Sonny Tapia (Cal State Long Beach)
What to Read Next