News
Saints Bounce Back for Game Two Against the Santa Barbara Foresters
By Arroyo Seco Saints July 02, 2023 10:03am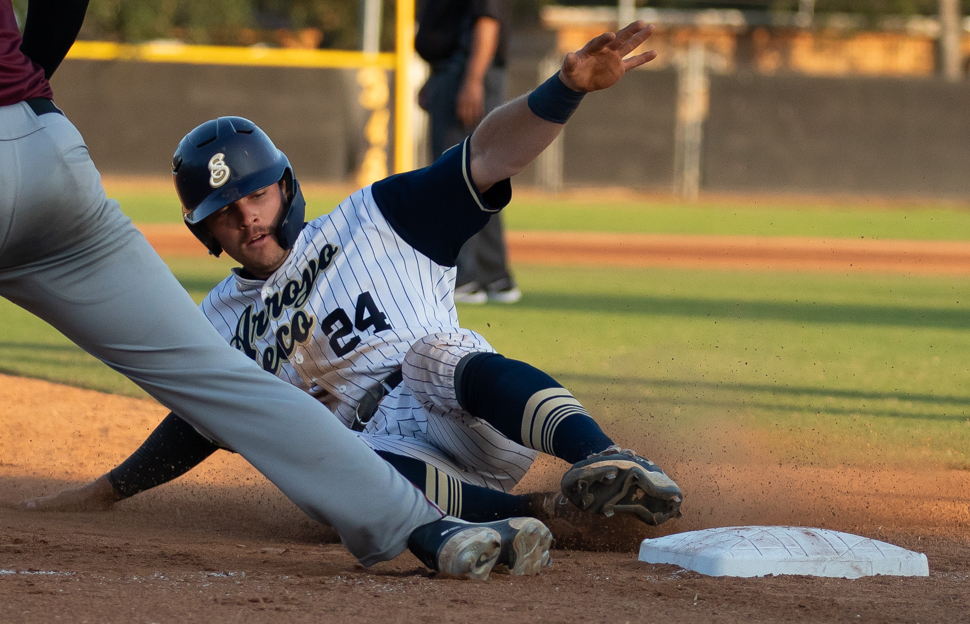 PASADENA, CA — After a win-streak-ending loss Friday night in Santa Barbara, the Saints were looking to bounce back in game two of the series against the Foresters — and that's exactly what they did. 
It was a night and day difference compared to Friday's game. The Saints jumped out to an early lead for tonight's matchup. Raider Tello (Iowa) started the second inning with a base hit and Alec Jones (Cincinnati) followed suit. Richie Morales' (Arizona) first hit of the night was a hard-hit ground ball that got past the Foresters' third baseman and brought in the Saints' first run. Preston Godfrey (New Mexico State) brought the second run in with an RBI groundout. 
Tello had his second base hit of the night in the fourth inning. The Iowa product has been one of the most consistent bats in the Saints' lineup this season. He's had a hit in every game but one that he's played in. 
Alex Birge was unable to stretch his base hit into a double, but he put Jones on third. Morales' second hit and second RBI of the night brought in the third run. 
The Foresters came close to putting a run on the board in the fifth inning. They loaded the bases, but were unable to score on Matthew Holzhammer (Eastern Oklahoma). 
Max Blessinger (Belmont) got on base with a single and Mason Hammonds (Tarleton State) followed up with a double down the left field line. Kyte McDonald's (Wichita State) RBI flyout brought in the Saints' fourth run. 
It was a big night for shortstop Morales who was 4-for-4 in the game after he doubled in the 6th and singled in the 8th. 
"I've been struggling on and off," said Morales. "Jack reminded me to just sing the ABCs, go back to the basics, then everything just clicked."
The Foresters cut the lead in half in the top of the eighth, but were unable to catch up. The Saints took game two of the series with a 4-2 victory.
The Saints are back on the road Sunday afternoon for game three against the Santa Barbara Foresters.  Tune in at 2:00 p.m PST on our Youtube Channel to watch.
Contributors:
Saints Reporter Sydney Barragan (New York University)

Saints Photographer Sonny Tapia (Cal State Long Beach)
What to Read Next