News
Saints Battle Throughout, Drop CCL Match-Up To Foresters 6-4
By Arroyo Seco Saints July 14, 2019 12:48pm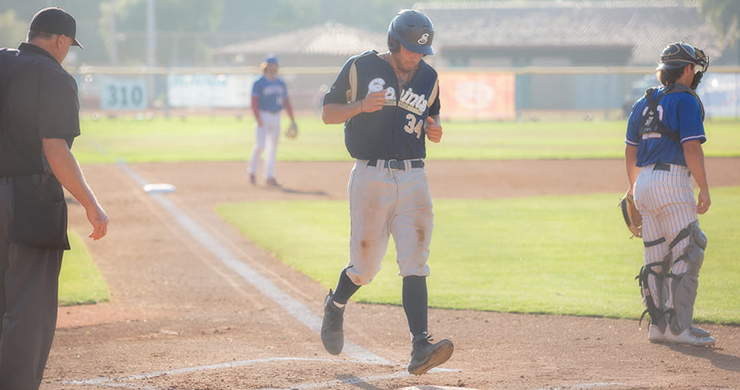 SANTA BARBARA, CA – The Arroyo Seco Saints fell 6-4 in a close, back-and-forth matchup with the Santa Barbara Foresters on Saturday night.
The Saints jumped on the board in the second inning to take the lead. First baseman Nikolas Pagan (Hartford) was walked to start off the inning. After stealing second, he was brought home by second baseman Wyatt Stapp's (Cincinnati) single to center field.
The Foresters took back the lead in the bottom of the second scoring two runs, but the Saints tied it up in the top of the third. Right fielder David Reyna (Ark-Monticello) was walked and later made his way home after Pagan singled to center field.
"I wasn't trying to do too much today, I got to a 0-2 count and was just trying to look for something and drive it up the middle," Pagan said.
In the bottom of the third, the Foresters got back on top, scoring two runs.
The Saints tied the ballgame up again in the top of the sixth. Stapp started the inning off with a walk. Catcher Matt Thomas (Harvard) then pounded a double down the left field line. With the bases loaded and one out, center fielder Nolan Tressler (Georgia Southern) stepped up to the plate and cracked a grounder to the gap in center field to score both Stapp and Thomas.
"I flew out my first couple of at bats, so I was trying to stay on top of the ball and drive something up the middle, something that was not a double play," Tressler said.
The Foresters put up a run in the sixth and another in the seventh for a 6-4 advantage.
Left-handed pitcher Grant Young started on the mound for the Saints, pitching a total of six innings. In the bottom of the seventh, he was relieved by right-hander Chris Burnette (Pomona) who finished out the game.
"I thought it was a well played game, the Foresters are a good team," head coach Aaron Milam said. "I thought Grant Young gave us a chance and pitched a really good game."
The Saints will head to Thousand Oaks to take on the Conejo Oaks on Sunday afternoon. First pitch will be thrown at 4:30 p.m.
Contributors
Saints Reporters Grace Mikuriya and Talia Cheatham
Saints Photographer Garrisson Pena
View the live stream of the game on the Saints' Youtube channel
What to Read Next