News
Saints Back on Winning Track with Win Over San Diego Waves
By Arroyo Seco Saints July 08, 2017 09:19am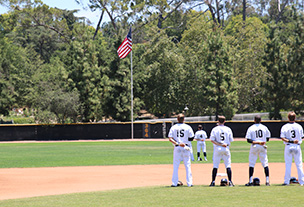 Kyle Pinheiro | Arroyo Seco Baseball Insider
In the third non-league game of the summer for the Saints the team was coming off a 6-5 loss to the San Luis Obispo Blues, Saints were looking to bounce back at home. The Saints currently held a record of 11-8 before heading into the contest, with the pitching being the focal point we would see what be in store for first time starter Grant Vogenthaler.
Vogenthaler (San Francisco State) would surrender one run in his debut as a Saint, recording the win with one total run and allowing six hits. Vogenthaler would toss sixty pitches in the non-league game for the Saints with one total strikeout.
The Saints offensive performance was off to a good start in today's game tallying six runs in the second inning. With help from Alex Briggs (LIU Brooklyn), and Derek Gibree (St. Leo's University), who accounted three of these RBI's in the first and second innings. Blake Burton (University of Washington) also brought in a run in the first inning.
Gibree was excited for the Saints to get back to their winning ways on Thursday night, saying in the postgame interview 'coming off the tough loss last night, being able to come home tonight and bounce back is big""
This win could be big for us, having a five-game winning streak heading into last night, with a win tonight, we start a new streak"
Greg White (North Carolina A&T State University) also was excited about tonight's win saying, "Coming off the loss, we had to bounce back and to be able to do that was massive"
Both Players were consistent with their bats tonight, Greg White going 2-3 with 2 steals and 2 runs, while Gibree went 1-3 with 2 runs batted in.
"Staying to my approach, my plan and hit the ball hard and get on base" White, while talking about his offensive production on the day."
"Lately, I've been slumping and early on I saw runners in scoring position and was just out there doing a job to bring them home" Derek Gibree on his 2 RBI's in the first inning of work.
Saints Pitchers, Gabe Golob (New York University), Quint Robinson (University of Tennessee) and Brett Weisberg (Pierce College) all pitched for the Saints. Gabe Pitched innings 4-6. Quint
handled 6-8, and Weisberg took over closing duties for the team striking out the side in the ninth.
Saints added an insurance run in the sixth inning, with a Gabe Chavez (California State U, San Bernardino) run coming off a Dustin Krob (University of Dayton) Sac Single.
The Saints remained strong in their effort to win their third non-conference game of the season, they ended up beating the Waves 7-4.The Saints will resume play at Pershing Park against the Santa Barbara Foresters in Santa Barbara, California on Friday night at 6 p.m.
What to Read Next