News
Saints Alum Brandon Van Horn Reflects on His Rise Through Professional Baseball and Fond Summer Memories in Pasadena
By Arroyo Seco Saints September 26, 2020 10:00am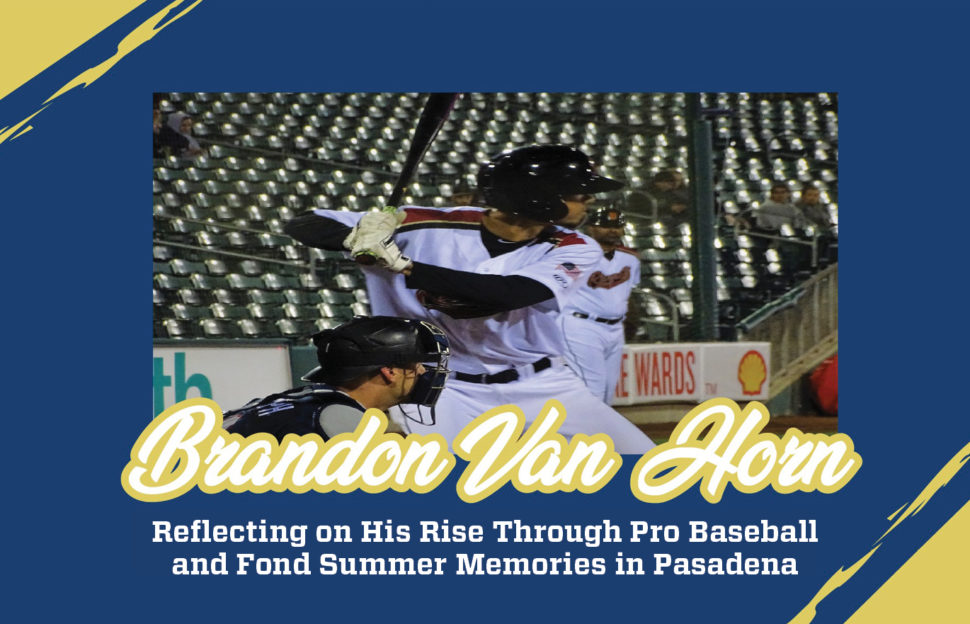 By Hannah Yoshinaga, Saints Reporter
—
As a minor league baseball player for the San Francisco Giants, Brandon Van Horn spent countless hours on the diamond improving his swing and strengthening his already above-average glove. The 6'-2" infielder's efforts paid off, allowing him to establish himself in the San Francisco farm system and move from Rookie ball to the Giants' AAA team in just three seasons.
Van Horn would make a name for himself as a defensive standout, earning Giants Minor League Defensive Infielder of the Year honors from Baseball America in 2018.
Van Horn looks back to the days of playing for the Arroyo Seco Saints. He talks about his memories of playing with his Saints compatriots during the summer of 2012, whether it was traveling to San Diego for games, creating the movement affectionately known as the "Saints Bus," or placing a giant stuffed gorilla in the umpire's box after a series of bad calls at a tournament.
Van Horn was part of one of the more formidable lineups in Saints history along with fellow players Elliot Surrey (UC Irvine, Seattle Mariners), Sergio Plasencia (Dayton), Cam Silva (Dayton), Troy Prasersit (Avila, MO), and Patrick Adams (McMurry, TX).
Prior to competing in the collegiate ranks, the Saints experienced success on the Babe Ruth, Connie Mack and Palomino levels for close to 15 years. In 2012, Van Horn played a large role in the 35-6 squad that advanced to the Palomino World Series—the first of the program's three trips to compete in international competition.
"There's guys we grew up around that were really good, like really good, whether it was in high school or they played pro ball," Van Horn said. "And then all of the sudden, we're those dudes, tearing up those fields. For me, that was really cool."
The team's greatest strength was team chemistry and their bond on and off the field which contributed to such an impressive record.
"It just turned out the more fun we had, the more we just started rolling people," Van Horn said. "A lot of teams have their own thing now, a rallying cry or whatever, but we had just as much fun hanging out together as we did on the field. There really wasn't a difference."
Van Horn would go on to face the uphill challenges of pursuing a professional baseball career.
At St. Francis High School in La Canada, Calif., he struggled to adjust to more advanced competition. While his coaches recognized his potential, his lack of strength initially cost him a daily spot in the lineup.
"[At the time] I used to say it's too bad you can't put his determination in the body of some other athletes," said Assistant Coach Marty Marquardt, one of Van Horn's former coaches at St. Francis and with the Saints. "It wasn't much of his skill set, [his size] was just not developed as a high schooler, but I think it helped him stay humble, so that's one of the things I liked about him. He was super humble and he's always smiling."
Van Horn instead stayed as involved as he possibly could whenever his coaches called plays and focused on improving his defensive range, which was his ticket to playing at the collegiate level. After graduating, Van Horn spent the summer suiting up for the Saints before moving on to college.
"[Summer ball] is just fun," Van Horn said. "And then you get a break for two months and you go right back to grinding it out, the 6 a.m. weights, and you're out here trying to please coaches and NCAA rules and trying to get good grades. When you're in college ball, it becomes more of a business, and when you're a student-athlete, it's a full-time thing."
Van Horn played two seasons at Riverside Community College. He received offers from Florida International and the storied University of Southern California Trojans before securing a spot at Dallas Baptist University.
He subsequently transferred to The Master's University, which competes in the National Association of Intercollegiate Athletics, in Santa Clarita, Calif. His move represented a fresh start, and with the guidance of TMU mentor Bob Dickson, Van Horn would end his senior year on a high note.
The combination of Van Horn's defensive prowess, leadership qualities, energy and strong work ethic garnered attention from professional scouts. Van Horn was drafted in the 19th round of the 2016 MLB Draft by the Giants, whose facilities were a few hours away from where he grew up and first learned to play baseball.
"It couldn't have happened to a better guy either," Marquardt said. "I love seeing that such a good person is having such success in his life and doing what he always wanted to do."
Van Horn vastly improved during his time in the minors and rose through the Giants' farm system, his baseball career was soon brought to a halt by the coronavirus pandemic. With the cancelation of the minor league season and the loss of millions in ticket revenue, MLB teams were forced to halt minor league operations.
Van Horn has since moved to Boise, Idaho, where he trains young athletes and baseball players.
"Life comes at you fast. [It wasn't too long ago I was] hitting homers in Spring Training against Johnny Cueto…," said Van Horn while flashing his patented grin.
Even though life threw an unexpected hurdle at him, he reflects on those memories of playing with his "Saints Bus" teammates at Jackie Robinson Memorial Field. The otherwise laidback Van Horn can now take a serious look back to that season, recognizing the impact it had on his own career and on the growth of Arroyo Seco's program.
"The year before, it was like, 'Oh I played [for] this team close to home and there are some local guys, it's called the Saints," Van Horn said. "It went from something like that to where people are like, 'Oh, how can I get on that team?' It became a thing."
Van Horn and his teammates helped to bring more notoriety to the Saints' organization, which now regularly attracts players from Division I conferences and top players across the country.
Professional baseball may not currently be part of his life, but Van Horn has faced plenty of obstacles to playing the sport he loves in the past and has not allowed those hurdles to stop him from pursuing his dream.
"You never know who you're going to play with, what coaches you're going to get, and most guys end up just showing up and leaving and it's kind of a waste of time," Van Horn said. "But for us, [that summer] was the most fun you could ever imagine."
While Van Horn has experienced his fair share of ups and downs throughout his baseball career, his memories of playing for the Saints are ones that he will remember fondly for the rest of his life.
What to Read Next