News
Russell's Bases-Clearing Double Ties Blues In 9th, Saints Downed By Walk-Off 4-3
By Arroyo Seco Saints July 04, 2019 01:33pm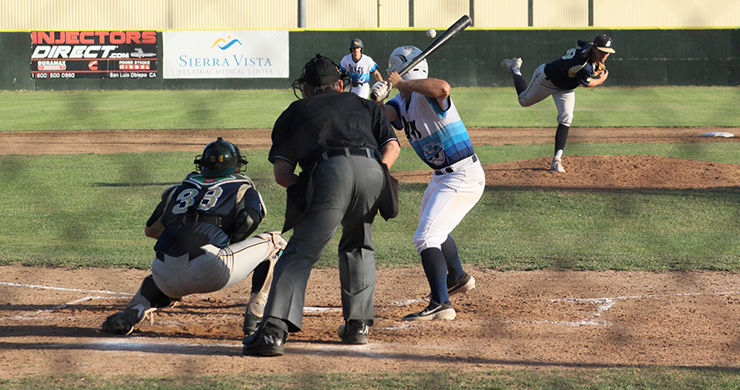 SAN LUIS OBISPO, CA – After a two-out rally by the Arroyo Seco Saints to tie the game in the ninth, the Saints fell 4-3 to the San Luis Obispo Blues in extra innings on Wednesday evening.
The Blues took the lead in the bottom of the third inning scoring two runs. Starting right-handed pitcher Cade Bullinger (Texas State) managed to keep the Blues at bay for two more innings before being relieved in the bottom of the sixth by lefty Trevor Beer (Santa Barbara).
Bullinger pitched a total of five strong innings, allowing two runs and striking out four.
In the sixth, The Blues threatened again with one out and the bases loaded, when a hard grounder was hit to second baseman Thomas Luevano (San Diego) who threw to shortstop Wyatt Stapp (Cincinnati), who then gunned a throw to first baseman Pete Derkay (Tennessee) for the double play to end the inning.
In the eighth inning, the Blues added another run to the board to take a 3-0 lead into the ninth.
The Saints rallied in the ninth inning and put up their first runs of the evening. Catcher Thomas McCarthy (San Francisco) started the inning off with a single to left field. Stapp then sent a hard line drive to center for another single. Right fielder Anthony Forte (Richmond) was walked to set the stage for left fielder Evan Russell (Tennessee).  Russell stepped up to the plate with bases loaded and two outs and slashed a double into the right field gap to tie the game.
"I started out slow at the beginning of the game," Russell said. "But my approach was to just get my hands out, get a barrel on the ball and see what happens, and it worked out."
Jamie Robertson (Emory) entered the game in the 10th inning to relieve Beer. Beer had a good outing, pitching four innings with three strikeouts and only one run scored.
The Blues put together a final rally in the bottom of the tenth to end the game 4-3.
"Our pitchers and Evan Russell's big hit, which was probably one of the biggest hits of the season for us, gave us a chance to win this game ," head coach Aaron Milam said. "What we have to do, team wise, is find a way to get going earlier because if we can get going earlier, we can't be beat."
The Saints head back up to San Luis Obispo on Friday to take on the Blues at 6 p.m.
—
What to Read Next