News
Riechmann, Kleinsorge Deal And So Do Saints, Win 4-1 Against Conejo
By Arroyo Seco Saints July 07, 2019 10:12am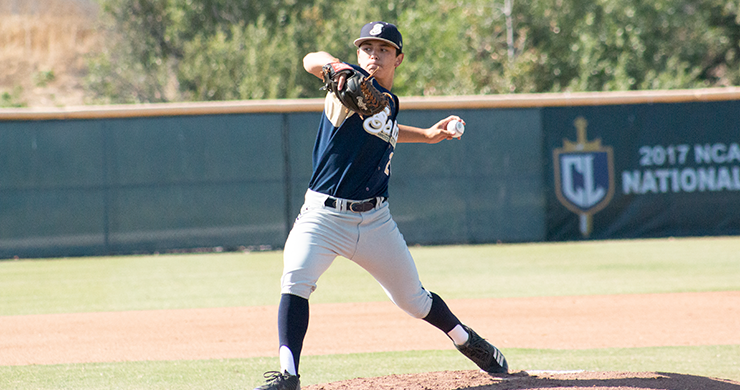 THOUSAND OAKS, CA – The Arroyo Seco Saints defeated the Conejo Oaks 4-1 on Saturday night at Cal Lutheran's Sparky Anderson Field in Thousand Oaks.
The Saints pitching staff pitched a gem as they only allowed one run on four hits against the Oaks.
Eli Riechmann (Blinn) started the game for the Saints as he threw five innings and allowed one run on three hits while striking out two batters.
"Our arms gave us a chance to win today. Eli Riechmann was great and Justin Kleinsorge (Regis) was great and even more importantly after getting walked-off less than 24 hours ago he comes in and gives us two and two-thirds of scoreless baseball," said Saints head coach Aaron Milam.
After a scoreless first two innings, the Oaks got the scoring started as they scored the first run in the game in the bottom of the third via a sacrifice fly.
The Saints then put up their first runs in the game. Thomas Luevano (USD) walked and was moved over to the second base. With a runner in scoring position, Jayson Gonzalez (Vanderbilt) was up. Luevano stole third and went home as the throw by the Oaks catcher hit Gonzalez's bat allowing Luevano to score.
Gonzalez singled during the at-bat putting him on for Jacob Wyeth (Cisco). Wyeth hit a shot to short, but the throw was overthrown by the shortstop scoring Gonzalez giving the Saints the 2-1 lead.
"That's how you win baseball games in the summer by taking advantage of the freebies. We did a good job with that and we need to stick with it," Milam said.
In the top of the sixth, the Saints added insurance runs as Luevano once again in scoring position, scored from a base hit by Gonzalez. Later in the inning, Gonzalez scored on a base hit by Nickolas Pagan (Hartford).
"That was big because we added on right there and any time you play any team that is down you have to put the nail in the coffin before the team finds a way to get back and beat you," Milam said.
The four runs were enough for the Saints bullpen as they pitched four innings allowing no runs on one hit while striking out three batters.
Gonzalez finished the game 2-for-4 with two runs scored and one batted in. Luevano was 1-for-3 with two runs scored and also stole two bases.
Kleinsorge pitched two and two-thirds of scoreless innings while only allowing one hit and striking out two batters.
The Saints now have an overall record of 13-11 and sit in third in the California Collegiate League standings. The Saints will now head home to take on the Academy Barons on Sunday night at Jackie Robinson Memorial Field. First pitch is set for 4:35 p.m.
—
Contributors

Saints Reporters Jesse Tovar
Saints Photographer Riley Watson
View the live stream of the game on the Saints' Youtube channel
What to Read Next