News
Q&A with Saints Alum and Dodgers Beat Reporter Blake Harris
By October 26, 2020 05:00pm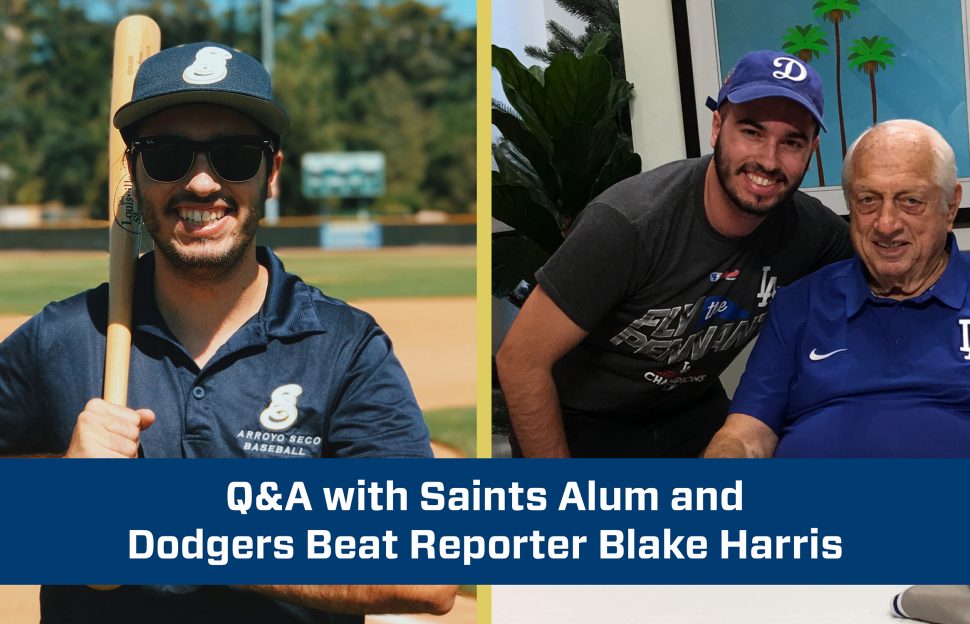 By Hannah Yoshinaga, Saints Reporter
Saints alum Blake Harris is in the middle of the action at the 2020 World Series, covering the Los Angeles Dodgers as a beat reporter for True Blue LA, the Dodgers' SB Nation affiliate.
After interning with the Saints as a reporter in 2017 and covering sports at his alma mater Arizona State, Harris moved on to accept internships reporting on the Dodgers. Harris now covers the Dodgers full-time for True Blue LA, which is a dream come true for the Los Angeles native and lifelong Dodgers fan.
Although MLB's strict health precautions have prevented him from being able to cover the World Series in-person, Harris is still working behind the scenes to crank out content for the True Blue LA community.
The Saints sat down with Harris to talk about his career as a sports journalist in Los Angeles and about his experience covering the Dodgers' latest postseason run.
Arroyo Seco: How did you get into sports journalism?
Blake Harris: "I applied to ASU for sports journalism. I got accepted into the Walter Cronkite School of Journalism and I figured 'OK, let me go check this place out,' so my family, we took a road trip down, took a tour of the school…so that's how I got into sports journalism."
"I just did that at ASU for four years, covered the baseball team there, the basketball team there, the football team, kind of just getting my foot in the door; they have so many opportunities at ASU. From my freshman year, I think they were able to get me countless opportunities."
AS: How did interning with Arroyo Seco prepare you for a career in journalism?
BH: "…It was an absolute blast and had it not been for that, I wouldn't have gotten to this point. Every time someone asks me, 'How did you get that?' and I say it's because of Arroyo Seco because it's tough, especially in the sports journalism world, getting jobs because you have to have something on your resume and it's tough to get something on your resume without having anything. Arroyo Seco, they were the first ones to give me that opportunity, so I always look back to that. Had it not been for Arroyo Seco, where would I have ended up? That was a pretty ideal summer gig."
AS: After graduating from college, how did you get a gig covering the Dodgers specifically?
BH: "I got an internship my junior year writing for Dodgers Nation and I did that for 4-5 months as kind of like a summer internship, and right as that experience was closing in August, I noticed that True Blue LA had an opening. I figured, OK, let me apply for this and after like two months of not hearing anything, waiting, I got an email back saying, 'Yeah we got your application, we're interested in bringing you on,.' …We were covering the Dodgers, writing for the Dodgers, and it was a whole lot of fun. I did that for a little over a year."
"Last December, there was this law that was passed in California and it essentially impacted Uber and Lyft drivers, but it also affected writers like myself. They were definitely getting underpaid by getting only $600 a month for the work I was doing, and long story short, SB Nation, they created California-specific jobs for the California sites to bring you on as full-time employees. There's 25 California sites, each one of had five to six writers on each site, so instead of doing that, they brought on about 30 of us to cover those 25 sites. Essentially I'm covering the Dodgers full-time, but I'm also covering the Clippers, the Angels, the Raiders, any other California teams that need help."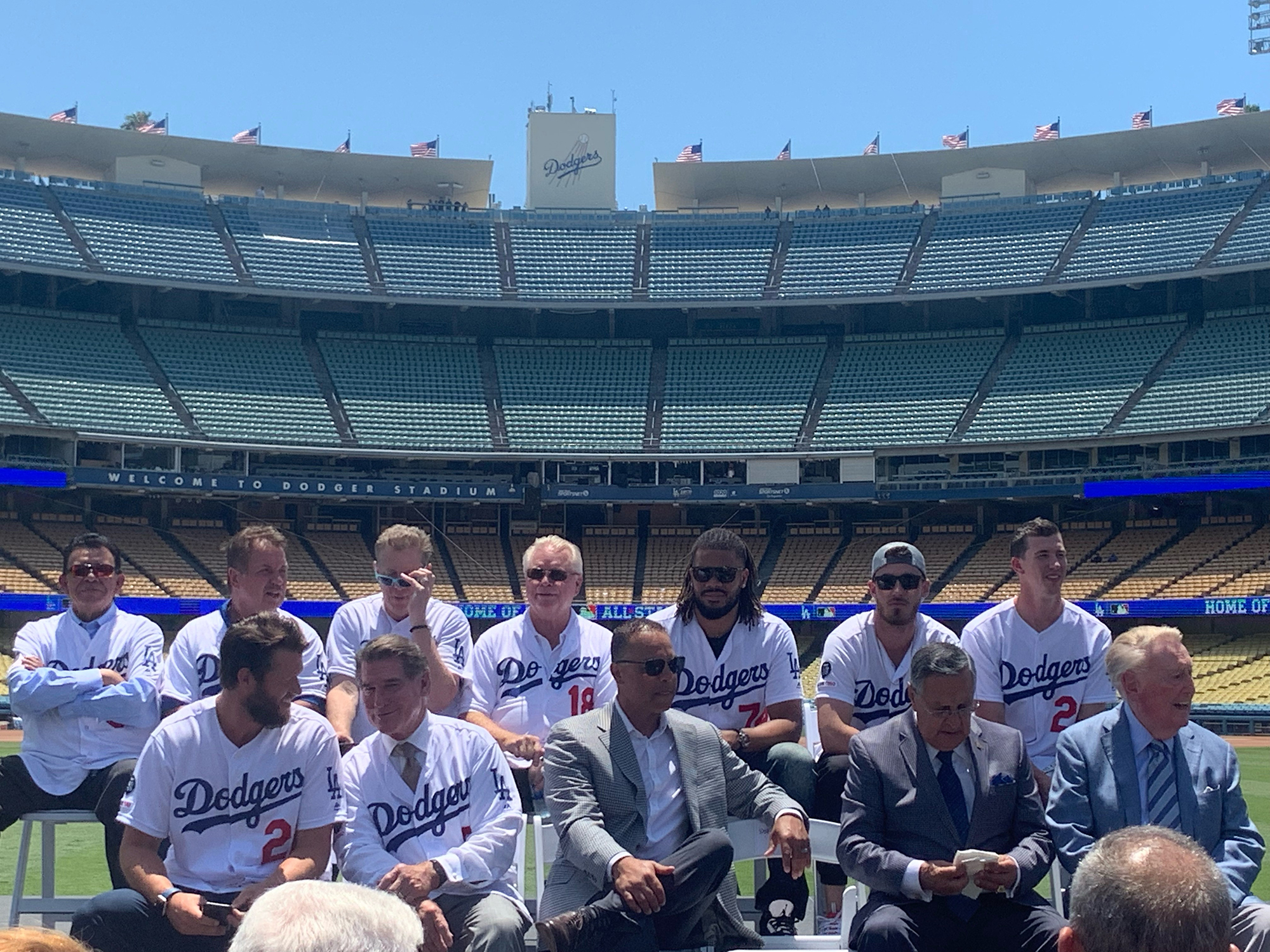 A press event Harris attended in 2019. Photo courtesy of Blake Harris
AS: What's been your favorite experience covering the Dodgers?
BH: "I was there for the old-timers' game where they brought all the old players and I was just chilling on the field prior to the old-timers game going on. Tommy Lasorda, Fernando Valenzuela, Steve Garvey, all these old Dodgers greats were hanging around the clubhouse and I was just a few feet from them, kind of just eavesdropping on their conversations, hearing what they were talking about. I definitely felt like I didn't belong because there's all these baseball greats that are just hanging out on the field and I'm just chilling there next to them."
AS: What makes covering sports on a blog site like SB Nation different than reporting as part of a larger news organization?
BH: "I was there for the old-timers' game where they brought all the old players and I was just chilling on the field prior to the old-timers game going on. Tommy Lasorda, Fernando Valenzuela, Steve Garvey, all these old Dodgers greats were hanging around the clubhouse and I was just a few feet from them, kind of just eavesdropping on their conversations, hearing what they were talking about. I definitely felt like I didn't belong because there's all these baseball greats that are just hanging out on the field and I'm just chilling there next to them."
AS: Has it been challenging to cover a team whose season almost always goes deep into the postseason and gets a lot of attention, especially as a Dodgers fan?
BH: "I think [SB Nation] is better because I can be just 100% honest with my opinions; we don't really have filters on the site. You're able to be more open and you're able to kind of just talk about your feelings more, which I think is a better platform. I think of SB Nation like podcasting. Writing for the LA times is kind of like, you're a news anchor, where you have to be so professional, you have to follow certain guidelines, but for this, I can write about whatever I want. There's no topics that I'm assigned. If I want to write an article about how the umpires blew a game, I can do that. SB Nation, that's kind of their whole thing they wanted to be, where you're getting out the coverage, but they want it to be from your own voice, they want it to be from your perspective."
"I think that's why people flock to SB Nation, because they know that the majority of the people that are writing for those certain sites are fans of that team. You can tell some big-time writers, they're not necessarily a fan of the team, whereas [on True Blue LA], I'm passionate, these are my thoughts."
AS: How has covering the Dodgers gone so far this year?
BH: "It's definitely more difficult because when you're at the stadium, you still have the managerial press conference with Dave Roberts, but besides that, you can go into the clubhouse and you can interview whoever you want. Now, you get your one or two players and that's all you get. It hasn't been completely difficult, it hasn't made things a lot worse, but definitely when there's certain things that happen in certain games, you'd like to talk to other players, get their thoughts, but most of the time [this season], it was always just one or maybe two players post-game. That was definitely the hardest part about it. Of course, having this all over Zoom, we have internet problems, there's things that go wrong. [It is] much easier having to be there in person, but they're able to make it work as best as they could this year. It was definitely something that took some getting used to, and, hopefully, knock on wood, things can change for next season and I don't have to worry about doing Zoom five or six hours a day again."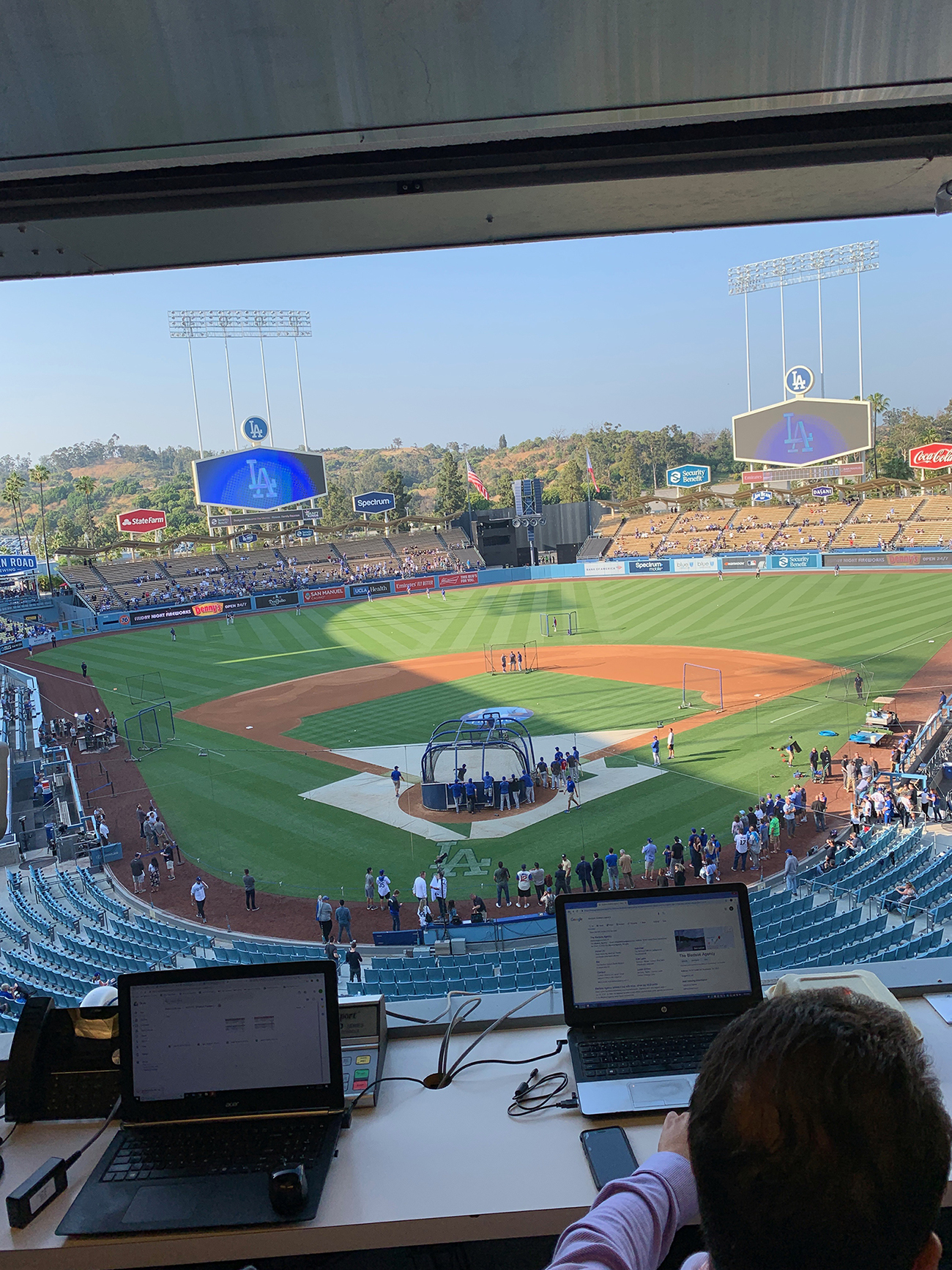 When he's able to be at Dodger Stadium, Harris covers games and events from the press box. Photo courtesy of Blake Harris
AS: How do you think these same issues will continue to impact the sports journalism industry moving forward?
BH: "I think it's going to slowly start getting better as time goes on, especially going into next year, but it's tough. Especially this year, I think being a sports journalist is probably the toughest job out there, because not a lot of places are bringing in people and there was no sports to be covered, so no one was hiring to begin with. I hope that next year, moving forward, things are going to get better, things are going to open up, because I do think that of all the jobs out there, especially if it's something you're really passionate about, it is completely, completely worth it."
"I truly think that this is probably the best profession out there because you get to watch sports, write about it, talk about it. Definitely the best profession out there that's worth the wait."
AS: What's next in your journalism career?
BH: "That's the tough part because had I been asked that a year ago, I would've said doing what I'm doing now full-time and that ended up happening. I'm sure there's going be other opportunities that come, but it's just what I have now, and once everything gets better, the fact that I'll be able to go to Dodger Stadium and cover the Dodgers, go to Staples Center to cover the Clippers, I'm sure maybe one college football starts, I can cover USC, UCLA; with the NFL, maybe I can cover the Rams and Chargers. Right now, especially maybe because I literally just graduated college less than a year ago, it just seems like this is the perfect job. This is something I can hold down for a long time. The best part is, it's remote, so I don't have to worry about having to move anywhere. I can stay here, I lived in Los Angeles my whole life, I made sure I stayed here in Los Angeles, I don't wanna go anywhere."
"I mean, ideally, I can have this job as long as possible. I think this, especially for right now, is the most ideal thing I can ask for."
What to Read Next