News
Now Accepting Applications for Summer 2019 Internships
By Arroyo Seco Saints October 01, 2018 07:00pm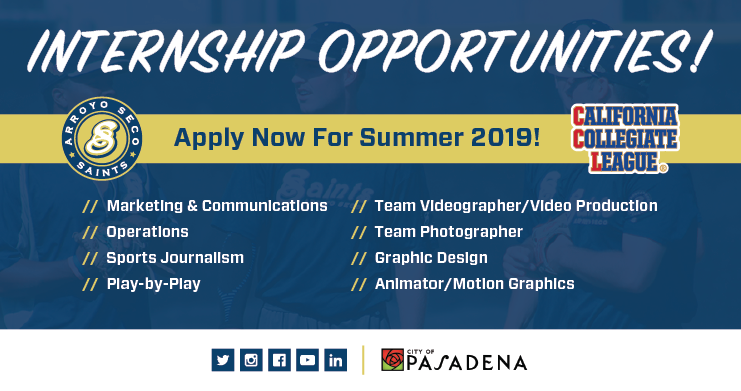 PASADENA, CA – The Arroyo Seco Saints are now accepting applications for internships for Summer 2019.
Learn by doing! Interns will be key players in advancing our mission. The Arroyo Seco Saints Internship Program offers current college students the opportunity to receive a first-hand look at the day-to-day operations of a college summer baseball organization. You will spend the summer gaining valuable experience in the sports industry, building your resume and career portfolio, and learning through mentoring, networking, and training.
The Arroyo Seco Saints, a certified 501(c)3 non-profit organization, attracts elite college baseball players, baseball coaches, and college students seeking to gain experience in the sports industry to the greater Los Angeles area for the months of June and July. A proud member of the California Collegiate League and entering our 16th season of operation, the Saints strive to provide the finest collegiate summer baseball experience in the nation for players, coaches, interns and fans.
Internship Opportunities
Contact/Resume & Portfolio Submissions
What to Read Next