News
Fred's Game: A Special Night Capped Off With a Saints' 11-3 Victory
By Arroyo Seco Saints July 29, 2022 12:55am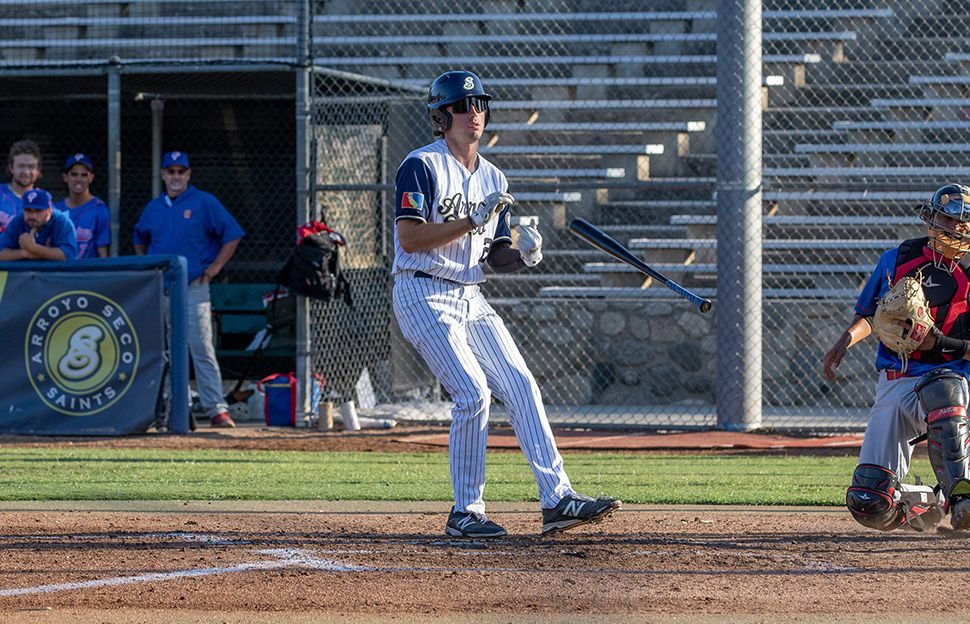 PASADENA, CA – The Saints competed in an exhibition game against the Philippines National Team on Wednesday night, but a special story began developing before the game even began. After arriving to the field, Saints' graduate assistant Jake Fredrickson, often called "Fred", was notified he would be in the starting lineup. The Saints defeated the Philippines National Team 11-3, but all eyes were on the man at first base during the game.
Arroyo Seco let up a run in the top of the first inning but struck back quickly in the bottom half. Dylan Johnson (Gonzaga) and Peyton Holt (Arkansas) led off the inning with back-to-back walks. Drew Cowley (Oregon) then reached on an error to load the bases. Matt Marlow (Regis) brought Johnson around to score with an RBI single, and Jared Bujanda (Cal St. Bakersfield) brought around Holt and Cowley with a single of his own.
Dylan Johnson again got the Saints moving, reaching base to start the second inning. Johnson then stole second and scored on an overthrow to third on Holt's sacrifice fly. Drew Cowley then sent his second long ball of the year to deep center field to extend the lead to four runs.
After returning from injury, Johnson was one of the most productive bats in the Saints lineup, and he preached on having fun on the field.
"I feel good, it's good to be back," Johnson said. "Just having fun, I think that's what we need to take … as long as we're playing loose like we did today we're gonna be successful."
Matt Marlow and Jared Bujanda reached base again. Marlow then scored on an error, and a one-run single off the bat of Jacob Sanchez (UTRGV) scored Bujanda. Jake Fredrickson then stepped up to the plate and recorded his first career hit in the CCL. After Artin Biageyian (Glendale CC) walked to load the bases, Dylan Johnson unleashed a bases-clearing, three-run double to cap off the seven-run inning.
The Philippines National Team pushed across a pair of runs in the third inning, but the damage was already done.
The final scoring of the game was done in the fourth by the Saints. Dylan Johnson brought Artin Biagieyian around to score, increasing his tally to four runs driven in on the day.
Jared Bujanda was a big contributor for the Saints in this one and even quadrupled his hit total since joining the Saints just under two weeks ago.
"I feel really good, I was just waiting to bust out of my shell," Bujanda said. "I've been bouncing around all summer … these dudes here are really nice, they really helped me get into a groove here. I'm loving it, I love being a Saint."
Last night, no one was more excited about being a Saint than Jake Fredrickson, however. Playing in his first game outside of intrasquad matchups since COVID-19 changed everything, Fredrickson was focused on enjoying one more chance to take the field.
"I soaked it in a lot today, it was a really great experience to come out here," Fredrickson said. "I was shocked. I thought Coach Milam was just messing with me, but he gave me a shot and I tried to do the most with it."
If fans followed along with the game on social media, they would have seen that the organization was celebrating his final game. With social media donning the team "the Freds" for his final time lacing up his spikes, Jake Fredrickson and his family are sure to forever remember Fred's Game.
Player of the Game: Jake Fredrickson
1 H, 1 R, 1 S, Countless Memories
Contributors:
Saints Reporter Jackson Crawford (Texas)
Saints' Photographer Angie Martinez (Mount St. Mary's)
What to Read Next