News
SD Force Double-Up Saints at Home
By Arroyo Seco Saints June 09, 2018 06:02pm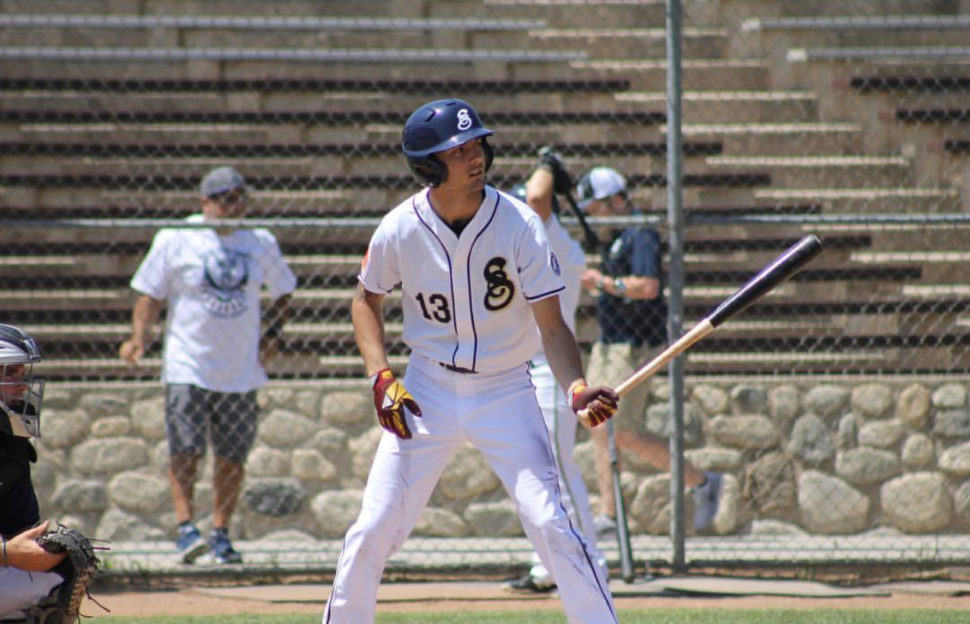 By: Henry Rounds; Photo: Emily Moran
PASADENA, CA – Arroyo Seco starter Charles Peacock (0-1) could not make it out of the third inning, and the normally sound Saints (1-2, 1-1 CCL) infield was undone by a trio of errors, and although the Arroyo Seco was able to string together five unanswered runs in sixth and seventh innings, the rally fell short as the visiting San Diego Force (3-0, 2-0 SCCBL) moved past the Saints 14-7 on a sunny Saturday afternoon at historic Brookside Park. 
The Force would do the majority of their damage in the third inning.  After taking a 1-0 lead on a solo homerun in the second inning, the Force would add six runs in the third inning, working two walks, sending a deep home run to center field, and would capitalize on three Saints errors to take a commanding 7-0 lead.
Arroyo Seco would get a run back in the bottom half of the inning, with Marco Martinez hitting a two-out double to deep center field and local USC first baseman John Thomas following with a ground ball that bounced over the second baseman's leaping attempt and into right field, allowing Martinez to race home from second and cut the lead to 7-1.
After San Diego answered with two more runs the very next inning, the Saints would respond with a second two out run of their own. This time it was Jack Smith reaching third on a triple to right field, and Nic Lacayo hitting a sharp ground ball that zipped under a diving third baseman's glove with two outs, making it a 9-2 game. The Force would later add a 10th run the next inning on an RBI ground
The Saints would answer with a run courtesy of a Jack Smith triple and a Nic Lacayo double to pull to within 9-2 after a Force single plated two, runs. San Diego would keep the pressure on however, adding an additional run in the fifth, and four more in the sixth. Arroyo Seco would notch two base hits, including a homerun by Roy Verdejo and a later sacrifice fly as a part of a three-run sixth inning and a later run in the seventh, but it would not be enough as the Saints fell short, 14-7.
MOMENTS THAT MATTERED
With the score 14-3 in favor of the visiting Force, Verdejo would go deep following a leadoff double for his first homerun of the summer. It was also the team's first long ball of the season as well and cut the deficit to 14-5.
HE SAID IT
Jack Smith, Center Fielder
"See ball hit ball. All right, let's go. Time to hit."
"I just go out here and play everyday, same stuff, different day."
Head Coach Sean Buller
"We have had really good quality at bats. Guys are seeing pitches and are understanding and seeing more pitches and getting [other team's] starters out earlier, and are able to communicate to each other more towards what to see and what to expect."
"Trust the process, have fun, relax, work on what you need to work on, and understand they have a reason that they are here."
NEXT UP
The Saints are back on the road tomorrow for a California Collegiate League matchup at 1 pm  against the San Luis Obispo Blues before returning home for a two game CCL series against the Santa Barbara Foresters on Tuesday and Wednesday.
What to Read Next