News
Five Saints Selected to 2022 CCL Showcase Game Presented by ABDG
By Arroyo Seco Saints July 19, 2022 02:39pm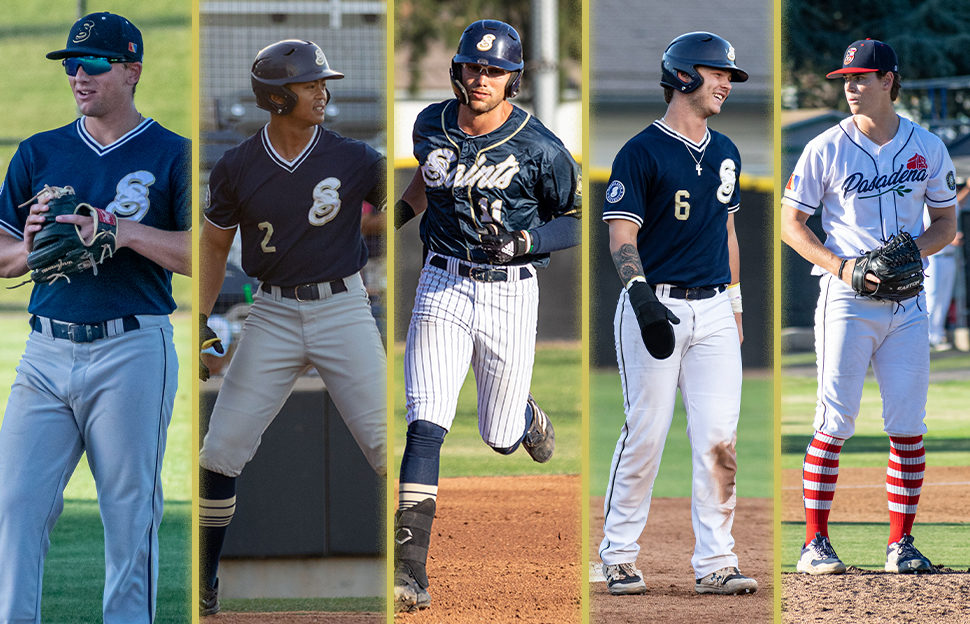 PASADENA, CA – Arroyo Seco will have the honor of sending five players to the 2022 California Collegiate League Showcase Game presented by ABDG. Shortstop Kyson Donahue (Hawaii), outfielder Matt Wong (Hawaii), infielder Drew Cowley (Oregon), catcher Cooper Harris (Wichita St.), and left-handed pitcher Chris Stamos (Cal Berkeley) were all chosen by the CCL Selection committee to represent the Saints.  
Kyson Donahue has been a force for the Saints, playing 26 of the 29 games for the Saints. Over that stretch he has amassed 29 hits, 29 runs, 23 RBIs, 20 walks, and five home runs in 93 at-bats for Arroyo Seco. Donahue currently sits with a .302 batting average, a .563 slugging percentage, and a .434 on base percentage. 
Donahue is looking forward to showcasing his talent with the other members of the team that were selected, saying he's "Just excited for the experience, super grateful to get this opportunity, and just excited to go with my teammates." 
Matt Wong has been a consistent man in the lineup since the summer started, also playing 26 of the 29 games. Wong has 32 hits, 30 RBIs, and 15 runs over a colossal 111 at bats so far this summer. Wong is also the Saints homerun leader with six long balls, and has a .288 batting average, .532 slugging percentage, and .344 on base percentage. 
Wong has missed some time on the field recently, and is looking forward to getting in some playing time.  "I'm kind of excited just to get back on the field that day … I'm feeling pretty good, I'm feeling confident, I can't wait to showcase everything." 
Cooper Harris earns his first CCL Showcase Game Selection in his first summer on the West Coast. Harris is known for his prowess behind the plate. Playing in 19 games for the Saints, Harris has thrown out 15 runners in 37 opportunities, boasting a 43.34 caught stealing percentage. Harris is also known for reaching base frequently, posting a .389 on base percentage during the 2022 campaign.  
After his selection, Harris said "I'm really proud of myself … I'm excited just to play baseball some more. I love this game and I'm excited to play with the best guys in the league and just compete." 
Chris Stamos is the only pitcher earning a selection for the team. In nine appearances, the left-handed hurler has struck out 39 batters over only 22.1 innings of work. Stamos only has seven walks that counter his mountain of strikeouts, and has posted a 3.62 earned run average ranking him sixth amongst active pitchers and having thrown more innings than any other Saints pitcher.  
When asked what he was most excited for, Stamos said "I'm excited to throw in front of the best guys in the league."  
Drew Cowley is legend around Arroyo Seco, having earned three CCL All-League Selections and two CCL Showcase Game Selections prior to the 2022 season.  During the 2022 campaign, Cowley earned his third career Showcase Game Selection and has 26 hits, 10 RBIs, and 14 runs scored so far. He has sent two pitches over the fence and currently boasts a .286 batting average, .429 slugging percentage, and .377 on base percentage. 
The Saints certainly seem excited to take the field on Wednesday at the Showcase Game, face the best players from around the league, and do it with each other.   
The 2022 California Collegiate League Showcase Game presented by ABDG will take place on Wednesday, July 20th, 2022 at the MLB Urban Youth Academy in Compton, Calif at 7:00 pm PST. Pregame workouts begin at 2:30 pm PST, and tickets will be available at the gate. Tune into the Bally Sports broadcast to watch all of your favorite Saints put on a show.  
Contributors:
Saints Reporter Jackson Crawford (Texas)
Saints Photographer & Graphic Designer Jacob Bramley (Cal Poly Pamona)
What to Read Next