News
Early Grand Slam by Saints' David Reyna Not Enough in Defeat to Riptide
By Arroyo Seco Saints June 15, 2019 06:03am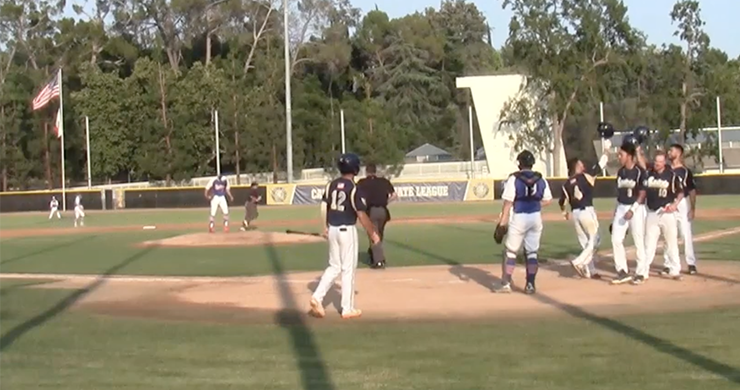 PASADENA, CA – Despite an early grand slam by right fielder David Reyna (Arkansas Monticello), the Arroyo Seco Saints fell to the Orange Country Riptide 7-5 on Saturday night at Jackie Robinson Memorial Field.
"We didn't string together enough hits and missed on opportunities that we had and didn't take advantage and offensively we need to get better," said Saints head coach Aaron Milam.
The Riptide came out with an early lead in the first as a wild pitch by Saints starting pitcher Justin Kleinsorge (Regis) scored a runner from third. With runners on second and third and only one out Kleinsorge was able to get out of the inning with no further damage.
Down a run, the Saints looked to get on the board as third baseman Tido Robles (Azusa Pacific) hit a flare into short right for a single to get the offense going. After two walks later the bases were loaded for Reyna. With a 2-0 count, Reyna hit a shot that cleared the left field fence for a grand slam giving the Saints a 4-1 advantage.
"I was sitting fastball and that was all I was looking for and I got it right down the middle and I swung, and it went over the fence," Reyna said.
In the top half of the third, the Riptide came back with a home run of their own scoring two runs to bring the deficit to one.
After a scoreless fourth inning, the Riptide started the fifth with a single. After a stolen base, the Riptide tied the game with a base hit up the middle. Later on, in the inning with runners on first and third with only one out the Saints got a ground ball and tried to turn the double play, but the batter was able to beat the throw scoring another run for the Riptides.
Down a run left fielder Nolan Tressler (Georgia Southern) started the bottom half of the sixth with an infield single. The very next batter designated hitter Andrew Garriola (Old Dominion) hit a double into the right-center gap scoring Tressler from first to tie the game at five.
The Riptide broke the tie in the top of the seventh as they scored two runs to give them the 7-5 lead.
Reyna finished the game going 1-for-3 with one home run and four runs batted in. Center fielder Christian Scott (Tennessee) was one of the Saints top hitters as he went 3-for-4 with a triple and two singles in the game.
The Saints are now 4-4 in the California Collegiate League and will now head to Santa Barbara to take on the Foresters. First pitch is scheduled at 6 p.m. at Pershing Park.
—-
What to Read Next