News
Driven by Family: The Saints' Drew Cowley Continues to Thrive
By Arroyo Seco Saints August 03, 2021 04:23pm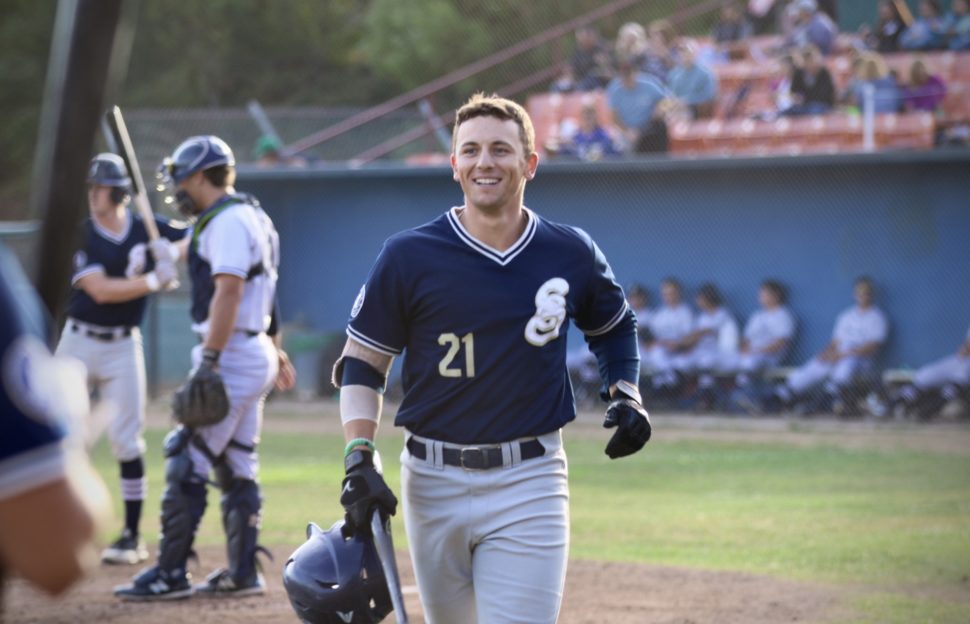 By Lucas Banks
PASADENA, CA – Growing up just forty minutes down the road in Upland, Calif., the Saints' infielder Drew Cowley was born to play baseball. It was in his blood.
Drew's grandfather, Craig Farnworth, raised three daughters, Emily, Sarah, and Jamie, who were all stellar softball players. Sarah and Jamie played for Cal State Northridge and Long Beach State, respectively, and, because of Craig's half-Greek heritage, the daughters became key members of the host-Greek Olympic softball team in 2004.
At every Saints game at Jackie Robinson Memorial Field, you can expect to see at least one member of the Cowley family in attendance.
It's no coincidence that so many of the Cowley's live close together. Craig raised his three daughters in Upland and always dreamed of keeping his family close by.
"My family is everything," Craig said. "I keep all my kids close to home, grandkids close to home, and if not for that we might be out of California."
Although Emily didn't play beyond high school, her two children, Drew and Paige, would continue the family tradition. As young children, they watched their aunts, Sarah and Jamie, play college softball, learning the ins and outs of the game while cheering them on. At every game, young Drew and his father would watch intently, then play catch or wiffle ball next to the fields between innings.
When he turned five, it was finally Drew's turn to partake in the family business. He started playing T-ball, then progressed through little league, playing shortstop every game. With every swing of the bat and endless encouragement from his family, Drew's love of the game grew just like it had for his aunts.
"Having my family play softball, I was happy that I enjoyed playing it, because, you know, they could have forced me to play and I wouldn't have liked it," Drew recalled.
Playing for Upland High School, where his aunts had won a state championship in softball in 1997, Cowley showed everyone that he belonged. He hit above .350 and was named the team MVP his junior and senior seasons, while also earning a 3.8 grade point average in school.
Cal Poly Pomona took notice, and being just thirteen minutes from his hometown, it seemed like the perfect fit for Cowley.
"I got the opportunity to play as a freshman, and it's close to home. I'm pretty close to my family so they can come out and watch all the games," Cowley said. "And I like the coaching staff. Super down to earth guys. They'll do anything for me."
Starting every game freshman year, Cowley excelled at the collegiate level. He hit .348 as a shortstop, leading the team in doubles and triples, and finishing second in hits. He hit safely in 43 of the 51 games he played in, including hit streaks of twelve, thirteen and eight games. Things were looking great for the 19-year old hometown kid.
However, as many players do, Cowley endured a sophomore slump. He struggled with consistency, hitting .235 in the regular season, although still contributed 25 RBIs, good for fifth on the team.
"It was frustrating," Cowley said. "I was overthinking everything in my head, and I had my coaches talking to me, trying to help me fix things… but it ultimately made me just think more."
Despite Cowley hitting for a lower average, his team played well and had a chance to compete in the CCAA tournament at the end of the year. Motivated by the playoff atmosphere, Cowley showed up when his team needed him most. He went 9-20 (.450) in the tourney, knocking in three key runs and earning the tournament MVP award while leading the 6th seeded Broncos to a CCAA tournament title.
"You got to be able to fail," Cowley admitted. "(Baseball is) the only thing that you can go three for ten and be successful."
Unfortunately for Cowley and the Broncos, 2019 would be his last full season of playing baseball until this summer with the Saints. Due to the Covid-19 pandemic, the CCAA was forced to cancel the majority of their 2020 season and the entire 2021 season.
But even after sitting out from competitive baseball for over a year, Cowley showed no signs of rust. He has hit safely in 29 of 30 games started this summer, putting together a .368 batting average with 4 homers and 23 RBIs, and has led the Saints to the number two seed heading into the playoffs this week.
"He's an exceptional baseball player, and an even more exceptional human," Saints head coach, Aaron Milam, said about Cowley.
With an outstanding season of summer ball under his belt, the future is very bright for the kid from Upland.
What to Read Next