News
Determination and Perseverance: The Keys to Success for Saints, Stanford and Dodgers Alumnus Eric Smith
By Arroyo Seco Saints July 14, 2020 06:04pm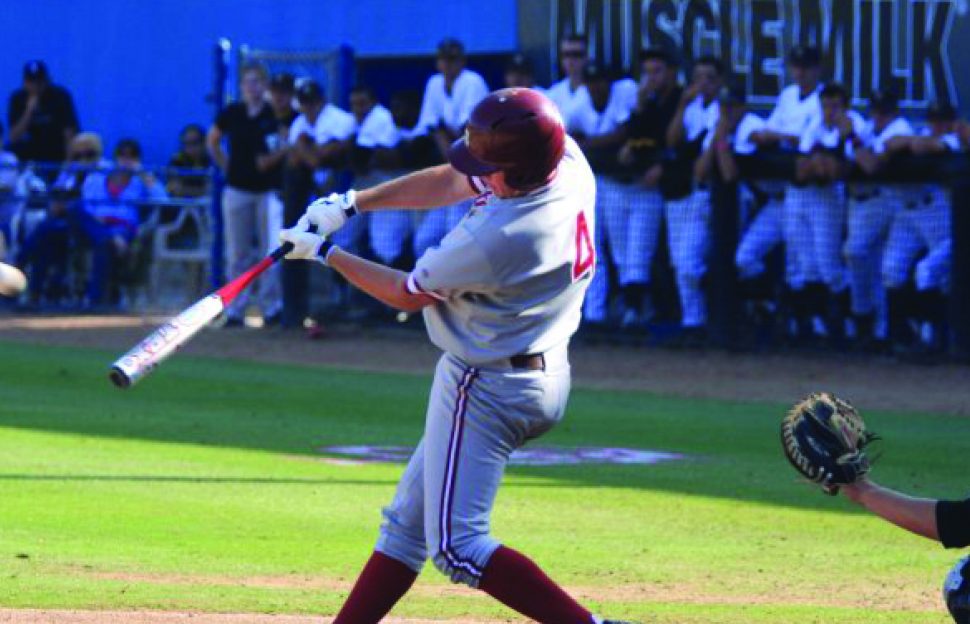 By Jake C. Piazza, Saints Reporter
—
At 6-foot-1 and 190 pounds, Arroyo Seco Saints' Eric Smith never turned any heads with his sheer size. He did not run an above average sixty-yard dash. He did not even crack his Stanford collegiate lineup at the position he was recruited at.
In an age of analytical sports and athletes being granted celebrity status, Smith stayed true to who he was.
It would have been easy to ditch his playing style in favor of long balls but he kept his sweet left-handed contact swing until the end. Smith could have let his ego flare after earning All-Pac-12 honors. But he did neither of those.
Some players have mixed feelings about summer baseball There is no shortage of live repetition and the competition is elite, but it can be difficult to get into a groove. Lots of players are far away from any familiarity and friends and when you slump in summer ball it can feel like you're alone, stranded on an island with no way of getting back to the mainland.
This was not the case for Smith as he continued to flourish playing for the Saints.
"[Aaron Milam, Tom Stafford and Nick Gorman's] selflessness…they were doing everything. They were washing our jerseys. They were cleaning the field. They were doing everything. And they were doing it all for us and for the eight other guys on the team. It's something I will never ever take for granted and I will always remember. Just how much they cared about us," said Smith in a recent interview.
"It was all about development too. They were giving guys opportunities to play multiple positions. They want to see guys succeed. They want to see guys go on to the next level and succeed and I honestly don't know if you can find just a better group of people to associate yourself with, especially in baseball," added Smith.
Smith was one of many players who went on to have success in their baseball career. He found success via a route that seems to be a dying breed in the baseball world. Smith's greatest strengths were his tremendous consistency as a hitter and internal confidence that fueled his competitive desire.
"I always had this thing. I never thought really anyone was better than me. I was like 'Oh I can play with him' or 'I'm just as good as him' so I think that's always stuck and that would actually fuel the fire that I had to continue playing."
Imagine that. He made a career for himself out of hitting consistently and believing in himself instead of measuring launch angles and clocking throws across the diamond.
Whether it was in his two summers of baseball with the Saints or during his minor league career, Smith showed up to the ballpark like a professional every day.
"If you came and saw me one time you'd be like 'Oh yea he's a good player' but more of my strength was over a course of an entire summer or an entire season," said Smith.
His physical strength did not shine brightly as a young ball player but as Smith rose through the ranks, being able to have offensive success on a consistent basis played into making him a highly-touted prospect out of college and allowed him to thrive during the grueling minor league seasons.
"I don't think I was ever considered a dude…I don't think the measurables would jump off the chart anywhere except for just consistently solid contact but that doesn't always show up in terms of scouting reports," said Smith.
Smith was born and raised in La Cañada, Calif., something he attests to molding the mental side of his game. Southern California is filled with elite baseball talent but La Cañada is not thought of as one of the many scouting grounds for college and major league scouts.
So what did Smith, a blossoming high school baseball player, do when the baseball world seemed to only care about measurables he did not have and only scout in areas where he did not live?
He competed.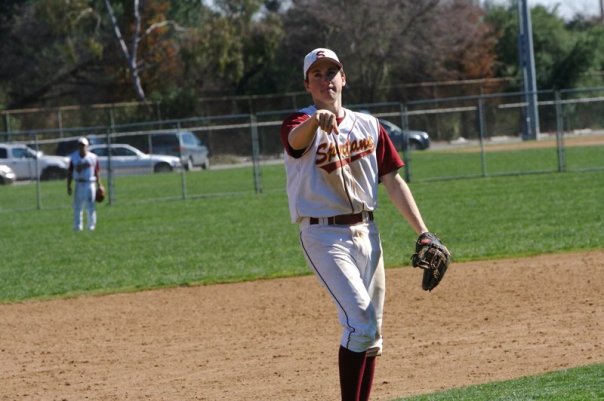 As a high school player, Smith understood the importance of getting dirty and playing the game hard.
He finished high school with nationally-ranked statistics in batting average (.505) and on-base percentage (.616) propelling him a scholarship to Stanford University.
In a summer game with the Saints, Smith played all nine positions and had four hits to go along with it.
"Everything I had to do I had to prove it myself…. It was kind of always like I didn't have a name or reputation to fall back on and I had to create that over time."
Yet upon arrival in Palo Alto, Smith found himself back in the shadows. His recruiting class was loaded with major league talent, including Stephon Piscotty, who is in the process of putting together a formidable professional career.
As one of Smith's childhood favorites, Chipper Jones, said, "Baseball has such a way of humbling you." For Smith, baseball served him a healthy dose of humble pie at Stanford. Smith worked for four years in high school to prove that he could play with the best just to arrive at Stanford and have to do it again.
In his first year at Stanford, Smith leapt at any opportunity to pinch-hit or make a spot start. When he got a chance as the starting second baseman position his sophomore year, his errors and outs outweighed his positives so he found himself right back to his freshman year role.
To say Smith hated losing that starting spot would be an understatement. He had no intention of finishing his college days cheering from the bench but there was no room for him in the infield. In order for him to showcase his best asset, daily success as a hitter, Smith had to find a way to start every day.
He took the same attitude that got him to Stanford and used it to make a position change that most baseball-minded folk would laugh at. Smith planned to switch from shortstop to catcher. He not only had never played catcher before, but he was attempting to switch to the most difficult position in baseball. Catcher is a position people switch away from. Becoming a catcher this deep into your baseball career is a challenging pursuit.
But it was not outrageous to Smith. In fact, to Smith it was simple. He really believed he could compete with any baseball player regardless of position, background or measurables and so he did.
After transitioning to a life behind the plate, Smith earned another chance to start and this time, he did not give it back. His consistency shined and he hit .321 in his junior season and caught the eye of MLB teams. On the way to Tallahassee, Fla. to play Florida State in the super regionals, the team plane took a fuel stop in Texas and upon landing, Smith's phone incessantly buzzed with messages.
During the plane ride, Smith was drafted by the Los Angeles Dodgers in the 18th round of the 2012 MLB Draft.
"The first [number] I find was my dad's number and so I made it a point to listen to his first just because that's the relationship that we have. He was my coach growing up so that was a really special moment that I will never ever forget. That was a surreal experience. Then it was like, oh, I got to get back in the air and finish a final or something that I was working on," said Smith.
After Stanford suffered an upsetting loss to Florida State effectively ending his college career, Smith dove right into minor league baseball and had a hot summer rookie year. The cool confidence that Smith drew upon time and time again led to him being named the Dodgers' Organization All-Star at catcher in 2012.
Smith had a number of serious injuries throughout his playing days and in 2013, a shoulder injury forced him to medically retire.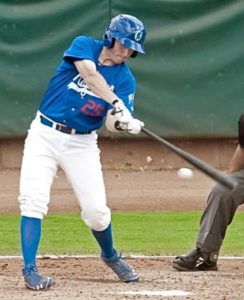 "It stinks that it's over and it was a hard decision but I think what helped me a little bit is knowing that no one told me I wasn't good enough. I wasn't called into an office and saying we're releasing you. It was a decision that I ultimately made," said Smith.
The silver lining for a Stanford baseball player retiring is that they were in fact, a Stanford baseball player. He went back to finish his degree while being legendary head coach Mark Marquess' first ever undergraduate assistant coach.
Smith will always have a coveted spot in Saints history and in more ways than one.
He came back to the Saints as a coach to continue molding young players. He played baseball with the fire it deserved and showed respect to the game with his passion for peak performance on a regular basis.
Saints General Manager and Head Coach, Aaron Milam, has high praise for Smith. "Eric played the game the right way. Guys like Eric along with so many other guys in our program's history, is the reason why we do this."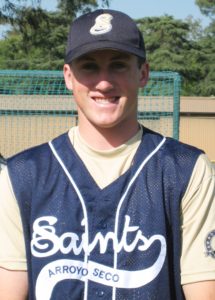 Photos courtesy of Eric Smith.
Social media graphics done by Hannah Yoshinaga with images courtesy of Stanford Athletics.
What to Read Next