News
Despite a Late Rally, Saints Edged by Blues 7-5
By Arroyo Seco Saints July 17, 2022 11:23pm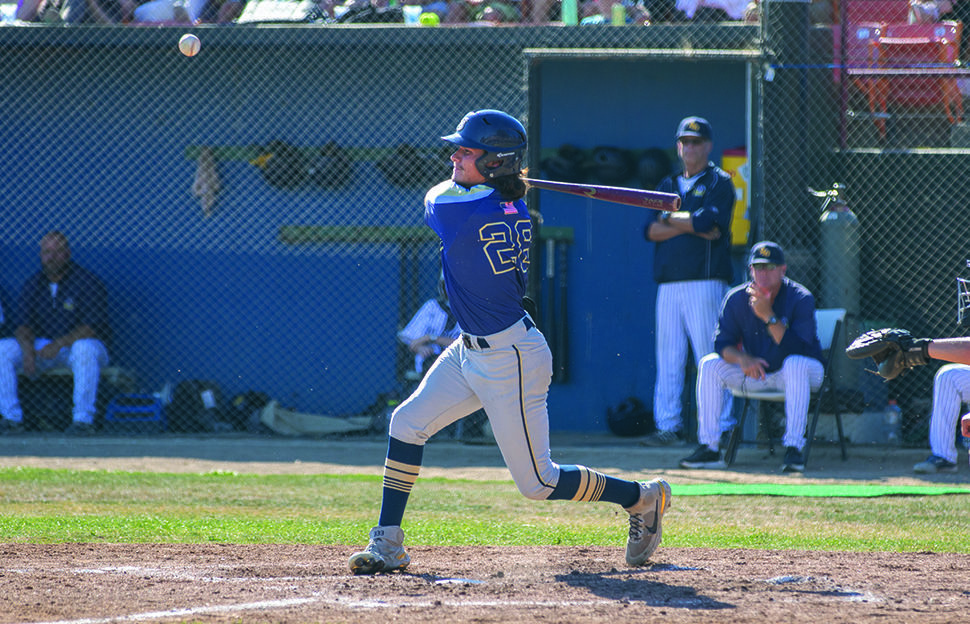 SAN LUIS OBISPO, CA – For the third time this season, the Saints traveled up to Sinsheimer Park to take on the Blues. After the second frame, San Luis Obispo held a commanding 7-1 lead and appeared to be in full control. The visitors mustered a valiant comeback effort, posting four runs in the final two innings, but it wasn't enough as the Blues escaped with a 7-5 victory. 
Arroyo Seco got going early on Saturday afternoon, as Drew Cowley (Oregon) and Matt Wong (Hawaii) recorded base hits in the first inning. Newcomer Jared Bujanda (CSU Bakersfield) then knocked a groundout to Blues second baseman Darius Price (Cal Poly Pomona), which allowed Cowley to cross home plate and put the Saints up 1-0. 
The lead was short-lived, however, as the Blues rattled off four runs in the first and added three more during the next inning. Arroyo Seco turned to reliever Jacob Henderson (Iowa) in the fourth to shut San Luis Obispo's offense down. And the Gilbert, Arizona native did just that, picking up five strikeouts and limiting the Blues to just two hits in 4.0 innings pitched. 
Associate head coach David Feasler was extremely impressed by Henderson's performance, saying the right-hander was very efficient on the hill. 
"Henderson, at the end of the bullpen, was really, really good," said Feasler. "He was efficient, he pitched inside with effect, he threw his off-speed slider with effect. He was very good." 
Both teams' offenses stayed quiet until the eighth inning, when Bujanda smacked a groundout to first, driving in Artin Biageyian (Abilene Christian) and cutting the deficit to five.  
The Saints would continue their rally in the ninth, as Max Blessinger (Pasadena CC) slammed a ground ball to third base that Kody Darcy (Texas – San Antonio) couldn't handle. Blessinger would then steal second and pick up his 13th swiped bag of the summer. Cooper Harris (Wichita State) brought in the Saints' third run of the afternoon when he got ahold of a 1-1 pitch and recorded an infield base hit. 
With one out on the board, Biageyian knocked a single into left field, and Jordan Rogers (Wichita State) sent a base hit into the same spot to score Harris. Arroyo Seco cashed in again when Matt Wong advanced to first base on a fielder's choice, narrowly beating out a double play. However, Bujanda would send a ground ball right to Price, who made the easy throw to first and sealed the win for San Luis Obispo. 
With Sunday's loss, the Saints have now dropped five straight contests. However, Feasler doesn't think the team needs to change their approach, and says that the coaching staff has the upmost trust in their players. 
"I don't think we need to do anything different. I think it's like,'Hey, we trust you guys, and you guys are all great baseball players…' We don't need to say anything different to motivate, all we need to do is tell these guys we trust them…" 
Bujanda and Biageyian both made instant impacts during their first game in the lineup, providing a combined two runs and two RBI. Bujanda said it feels awesome to already be a contributor, but gave a lot of credit to his teammates. 
"I can't do it without the team, putting me in positions to get that done, and making it to where even if I roll over or get a base hit, they're going to score," said Bujanda. 
The Saints will try to snap their five-game skid on Sunday when they host the MLB Academy Barons at Jackie Robinson Memorial Field in Pasadena. First pitch is scheduled for 6:05 p.m. PST. Stay up-to-date on the action by tuning into the Saints' YouTube and social media channels. 
—
Contributors:
Saints Reporter Sean Brennan (Arizona State)
Saints Photographer Angie Martinez (Mount St. Mary's)
What to Read Next