News
Defense Allows Saints to Defeat Legends
By Arroyo Seco Saints June 30, 2017 03:40pm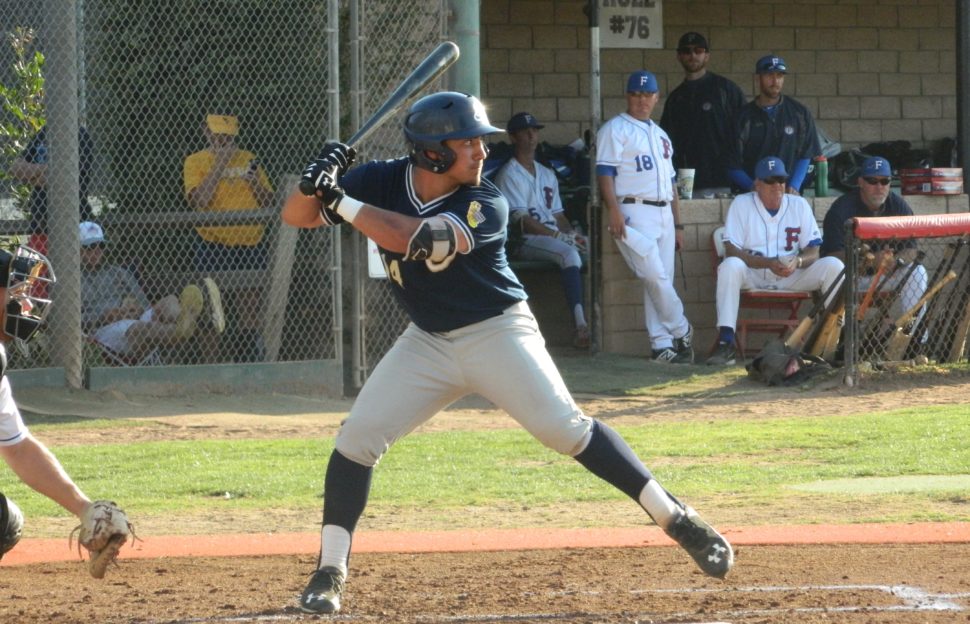 Jordan Campbell-Read | Arroyo Seco Baseball Insider
PASADENA, Calif. – The Arroyo Seco Saints brought starting pitching, offense, and key defense together in order to edge out a win over the Legends. Jumpei Akanuma (Lee University) pitched a solid seven and two-thirds innings giving up seven hits and five runs, two earned, while striking out 4. The Saints defense helped them win the game, but their offense really surged.
The Saints struck first in the game in the bottom of the first inning when Spencer Mossbug hit a two-out single to bring in Tyler Durna (UC San Diego) who scored on an overthrow to the third basemen.
The Saints would continue their offensive surge in the third inning when they would add on two more runs. Mitch Kerner (Emory University) would start things off with a single. Dustin Krob (University of Dayton) would single to move Kerner over to second base. A wild pitch would move the runners over to second and third. Derek Gibree (Saint Leo University) would single to score Kerner, while D. Krob would score on a balk to extend the Saints lead to 3-0.
Akanuma would pitch a phenomenal game, not allowing a Legends baserunner until the 4th inning on a single. However, a double play would quickly wipe that baserunner out.
"My defense helped me out a lot, catcher is Mitch, he was doing a good job blocking my stuff, and doing a good job calming me down. It helped me a lot," Akanuma would comment on his pitching throughout the game.
"It's just what we needed, a starter going deep into the game"Kerner would comment Akanuma's pitching, "he kept hitting his spots all night."
"JP had a great start, we needed that, it was big time for us," according to Brendan Krob's on Akanuma's pitching.
The Saints would take advantage of that and extend their lead even further after a four run fifth inning. Gibree would get things started with a two out single. Durna would hit a double to right field that would move Gibree over to third. A walk to Mossburg would load the bases with two outs for the Saints. Blake Burton (University of Washington) would single to score both Gibree and Durna, extending the Saints lead to 5-0. Mossburg would score next on a wild pitch, while a Corey Harrell (Graceland University) single would bring in Burton. The Saints would lead 7-0 heading into the sixth inning.
Akanuma would give up a lead off solo home run in the sixth inning to Legends batter, Jake Sahagien. However, Akanuma wouldn't allow the Legends to cause anymore damage to the Saints lead.
In the eighth inning the Legends would start to creep up on the Saints with a four run inning, cutting the lead to 7-5. After a couple of doubles to score a few runs, a huge play from White to Briggs to Kerner would throw a runner out at home in order to save a run. This would end up being the difference in the game. Akanuma would be taken out after two outs in the inning and Quint Robinson (University of Tennessee). Robinson would get a strikeout to end the inning.
The Saints would strike back in the bottom of the eighth inning. Brendan Krob (University of Evansville) would hit a solo home run to center with 2-outs to extend the lead to 8-5. Kerner would walk next. D. Krob would hit a single sending Kerner to third, who would score when D. Krob stole second base safely. The Saints would head into the 9th with a 9-5 lead.
"Josh came up to me right before I went up to bat with a snickers and said if you eat it you'll hit a double, so as a joke I ate it," B. Krob would comment on his home run, "He me off with two curveballs to start, I didn't think he would give me three curveballs in a row. Up and away I just went with it and got all of it."
Josh Walker (Butler University) would come in to try and close out the game, however, the Legends would score three runs making the game only 9-8. Walker would come out of the game with two outs. Josh Little (North Carolina Central University) would come in for a save opportunity and would close out the game with a ground out to third.
"As coach said we took our foot off the gas pedal a little bit, but we were able to lock it in and close it out," Kerner would comment on the last couple of innings of the game.
"We let off the gas a little bit. We had guys step up for us which is big, we needed that," B. Krob thought of those last few innings, "wasn't too worried, I thought we were going to pull it off, just happy we did. We played a pretty solid ball game, offense and defense. Pitching was great."
Next game will be June 29th at 6:05pm against the SoCal Catch at Brookside Park in Pasadena.
What to Read Next