News
Oregon's Drew Cowley Plays Hero in Dramatic 3-2 Victory Over Foresters
By Arroyo Seco Saints June 22, 2022 11:29pm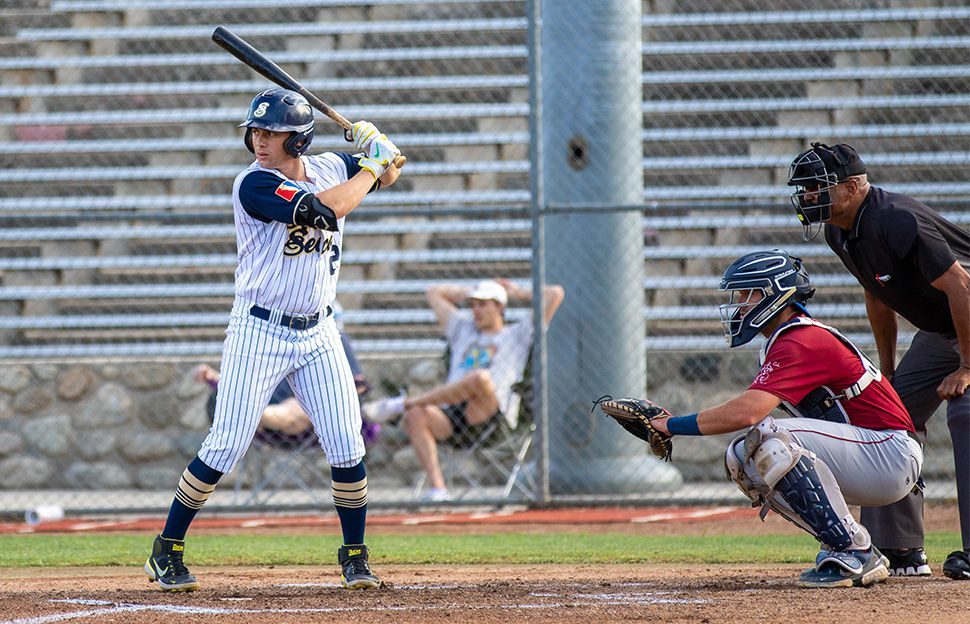 PASADENA, CA – The Saints faced off in the second game of a two-game series against the Santa Barbara Foresters in a midweek matchup at Jackie Robinson Memorial Field in Pasadena, Calif. The Saints were down going into the sixth inning when a clutch homerun tied it up, and then took the lead early in the eighth inning. 
The Saints struck first in the second inning when a leadoff double by Nathan Becker (Rice) led to an RBI single by Dylan Johnson (Gonzaga). 
The Foresters were able to strike back and take the lead in the second when a pair of runners were able to score. 
The score remained 2-1 until the 6th inning when longtime Saint Drew Cowley (Oregon) lead off the inning with a long ball to right-center field to tie up the game. 
Christ Stamos (Cal Berkeley) kept the game gridlocked with a stellar performance over 3.2 innings of work. Stamos hung up 5 strikeouts and only 2 hits while not giving up a single earned run to keep the Saints in the game.  
The bottom of the 8th inning brought a leadoff walk by Jordan Rogers (Wichita St.). Drew Cowley, living up to his status as a Saints legend, then struck again for a go-ahead RBI single. 
This single remained the difference maker as Jacob Henderson (Iowa) shut down the Foresters with 2 strikeouts in the final frame, and Cooper Harris (Wichita St.) caught the last out of the game attempting to steal second.  
Stamos felt confident about the performance of the pitching staff in game two. He placed an emphasis on throwing strikes, and that good things happen when the staff is able to execute throwing the ball over the plate. 
When asked about his clutch performance at the plate, Cowley spoke to not trying to do too much. When discussing his approach during his recent return to the team, Cowley said he has focused on "being aggressive, but not too aggressive." Looking forward to the team's weekend road trip this weekend to North California, he said it is important that the team has fun and remembers that at the end of the day this is still just a game. 
Saints' manager Aaron Milam spoke to the success of Drew Cowley, "I expect that, he's been that every year." He also talked about Cooper Harris's performance behind the dish this season, and stated that Harris has a very impressive baseball acumen which has allowed him to be so effective defensively this summer. 
Milam ended by stating that this team is special due to how fast this team has bonded, and that this has created a very special atmosphere in the dugout.  
Player of the Game: Drew Cowley (Oregon) 
2 for 4, 1 HR, 1 R, 2 RBI

 
Contributors: 
Saints' Reporter Jackson Crawford (Texas)

 

Saints' Photographer Angie Martinez (Mount St. Mary's)

 
What to Read Next