News
CCL Showcase Game Preview: Seven Saints Honored
By Arroyo Seco Saints July 11, 2023 03:07pm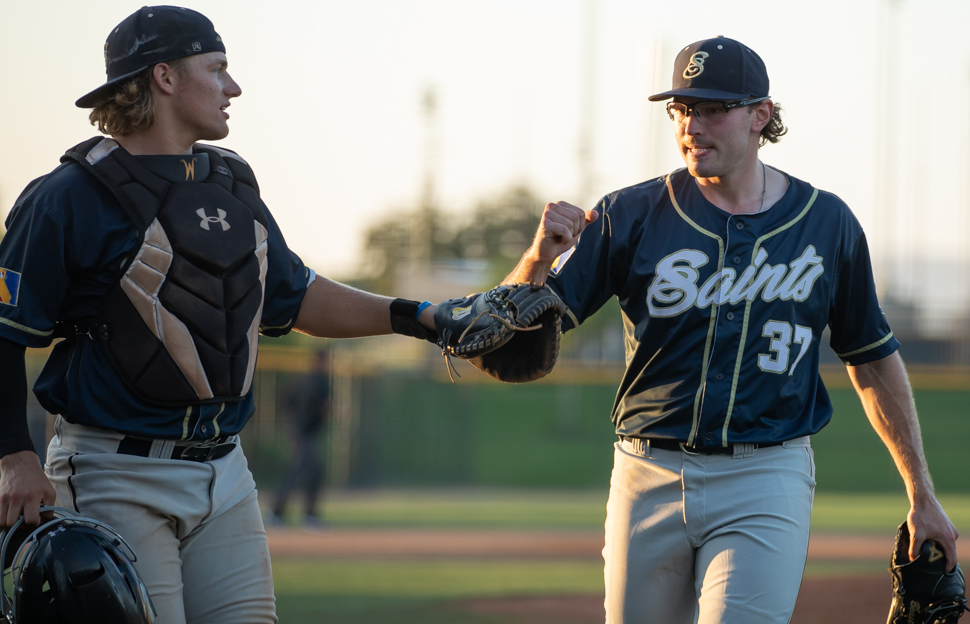 With the midway point of the 2023 CCL season looming, the 2023 CCL Showcase game is scheduled for Wednesday, July 12, at 7:00 p.m. PST. The best of the best in each of the California Collegiate League divisions travel to Compton, California, for a night all about displaying their talents. Coverage for this game can be found on Bally Sports TV.
New to the showcase game schedule this season is the Home Run Derby. After the completion of the player combine, which begins at 2:45 p.m. PST, nominees from around the league will take the stage for what most kids dream of doing one day. The inaugural Home Run Derby begins at 5:00 p.m. PST.
Competing in the derby, and one of seven Saints that will be participating in the showcase game events is catcher Alex Birge (Wichita State). While his two home runs on the year came early in June, Birge has displayed his power throughout the season. Batting .295 with six extra-base hits and seven RBIs, the Wichita State Shocker wants to make some noise on Wednesday.
"I've never competed in a derby before, but it's something I've always wanted to do," said Birge. "I've loved watching the MLB Home Run Derby since I was a kid, so I'm really excited for this."
As far as a strategy or game plan for the event, Birge is looking to stay calm and collected, but has also been watching some tape from one of his favorite MLB players.
"I love Kyle Schwarber, so I've been watching a lot of his highlights. Definitely will be going up there loose and just try and hit the ball hard".
Joining Birge at the event are former Pasadena City College teammates Max Blessinger (Belmont) and Raider Tello (Iowa). The duo's relationship stems back further than college ball; it reaches back to the travel ball days. When asked if he saw himself and Blessinger one day having the opportunity to share a stage like the CCL Showcase game, Raider Tello had zero doubts in his mind.
"100%. I've always felt that Max and I are both pretty solid players through and through," said Tello. "Max went to DBU (Dallas Baptist), I went to Portland, then we both landed at PCC (Pasadena City College). After the years we had, I would say it was almost a certainty we'd be here."
Coming off a very impressive season at Iowa, Tello has picked up right where he left off for the Saints. The Iowa third baseman started 59 games, posted a .315 batting average, tallied 14 doubles, and launched four home runs. While he is still looking for his first home run of the Summer, Tello has been the epitome of consistency for the Saints.
After an 0-4 night at the plate in his first game this season, Raider Tello has recorded a hit in every game he has played since; he'll enter Wednesday's showcase game riding a nine-game hitting streak in CCL play.
As for Blessinger, earning this spot has given him a sense of self-accomplishment.
"It's rewarding to feel like you are fixing weaknesses in your game as a hitter and player," said Blessinger. "I think going to the showcase is a byproduct of that."
As a returning member of the Arroyo Seco Saints, Blessinger has seen that development in Pasadena.
"Being in the same spot for two Summers has given me a cool perspective on my development as a player from last year to now."
Last season with the team, Blessinger batted .292 with 28 hits and 12 walks for an OBP of .417. This season, Blessinger is well on his way to surpassing those numbers. In 17 games, Blessinger has recorded 21 hits and 12 walks in 64 at-bats, adding up to a .328 batting average and .516 OBP.
Rounding out the position players making the showcase roster is first baseman Jack Hammond (Long Beach State). Despite joining the team in the middle of June, Hammond has made his impact noticed this season.
Hammond has only struck out in four of his 44 plate appearances for the Saints, a very impressive ratio; he has also added 14 hits along the way.
Moving to the pitchers on the Saints' roster who will be representing the team in Compton, Caleb Reyes' (Cal Poly Pomona) impressive stretch earned him a spot. In the right-hander's last four appearances, he has combined for 15 innings pitched, only seven hits allowed, 13 strikeouts, and a mere two batters walked.
After a first outing he wishes he could have back, Reyes has been nothing short of magnificent. His dominant stretch has taken his ERA down to 2.64 on the season.
Another pitcher representing the Saints on Wednesday with a fantastic ERA this Summer is Peyton Cariaco (Kent State). In fifteen innings pitched this Summer, Cariaco has an ERA of 2.81. His most impressive stat comes in the strikeout slot, as the right-hander has struck out 20 batters in 16 innings pitched.
Kevin Warunek (Longwood) has also been striking out batters left and right this summer. Despite only pitching 9.1 innings as a reliever for the Saints, Warunek has struck out a staggering 17 batters. He'll look to bring his best in front of many CCL fans Wednesday in Compton.
Currently in third in the CCL South, the Saints get a nice two-day break from CCL play in July. The seven members of the team heading to Compton Wednesday look to represent what Saints' baseball is all about, and when they return, the team will look to put everything together for the final stretch in league play.
The Saints are back in action in CCL play Thursday in Pasadena. Arroyo Seco takes on the San Luis Obispo Blues at 6:05 p.m. PST in Jackie Robinson Memorial Field. Tune into the matchup live on our Youtube Channel!
Contributors:
Saints Reporter Bennett Snyder (Ohio University)

Saints Photographer Sonny Tapia (Cal State Long Beach)
What to Read Next