News
CCL Playoff Seedings Set, Saints Upended By Foresters 7-3
By Arroyo Seco Saints July 24, 2019 02:01pm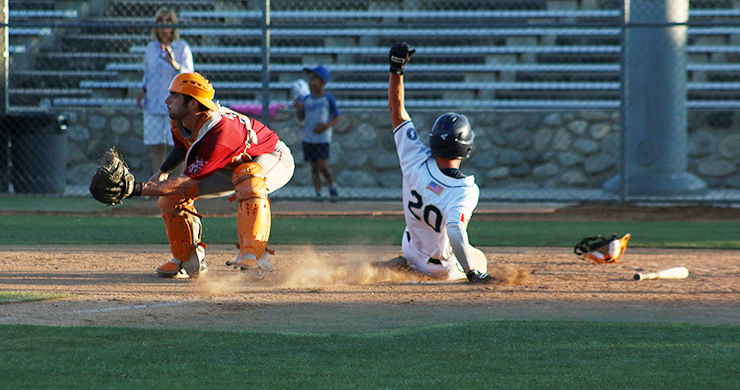 PASADENA, CA -The Arroyo Seco Saints fell to the Santa Barbara Foresters 7-3 in the final game in the CCL regular season on Tuesday night at Jackie Robinson.
With playoff seeding already set, Saints head coach Aaron Milam wanted to give his players a couple of more at-bats before Thursday's playoff game.
"We are playing to stay fresh and we didn't play too bad, they are a tough team to play. When they roll out pitchers who throw 95 that's going to be tough to hit," Milam said.
Saints starting pitcher, Grant Young (San Francisco), pitched six innings for the Saints, as he allowed seven earned runs on seven hits while striking out two batters.
The Foresters jumped on the Saints early as they scored two runs in the first inning. Young was able to pitch out of the jam without allowing any further damage.
In the bottom half of the first, with Morgan Allen (St. Edwards) at third and Thomas Luevano (San Diego) at first, Nickolas Pagan (Hartford) hit a shot to right for an RBI single to put the Saints on the board.
After a scoreless second inning for both teams, the Saints took the lead in the bottom of the third as they scored two runs. Nolan Tressler (Georgia Southern) scored on an RBI ground out by Drew Cowley (Cal Poly Pomona) to tie the game for the Saints. A batter later Luevano hit a sacrifice fly to left to score Allen.
Young got into trouble in the fourth and seventh as the Foresters scored five runs in the two innings.
Saints bullpen pitched a gem as Justin Kleinsorge (Regis) and Race Gardner (Hawaii Hilo) pitched three scoreless innings allowing two hits while striking out two.
Allen finished the game going 2-for-4 with two runs scored. Cowley, Luevano and Pagan each had an RBI in the game.
"We are going to go ahead with our line-up and our horses, and we are going to see what we got. The best thing is that our bullpen in intact and we will be able to get through Thursday and Friday," Milam said.
The Saints will now head to Thousand Oaks to take on OC Riptide on Thursday night for the first round of the CCL playoffs. First pitch is set to be 4:30 p.m. at Sparky Anderson Field.
—
What to Read Next