News
Big Seventh Inning Propels Saints to Victory Over Riptide
By Arroyo Seco Saints July 01, 2022 02:51pm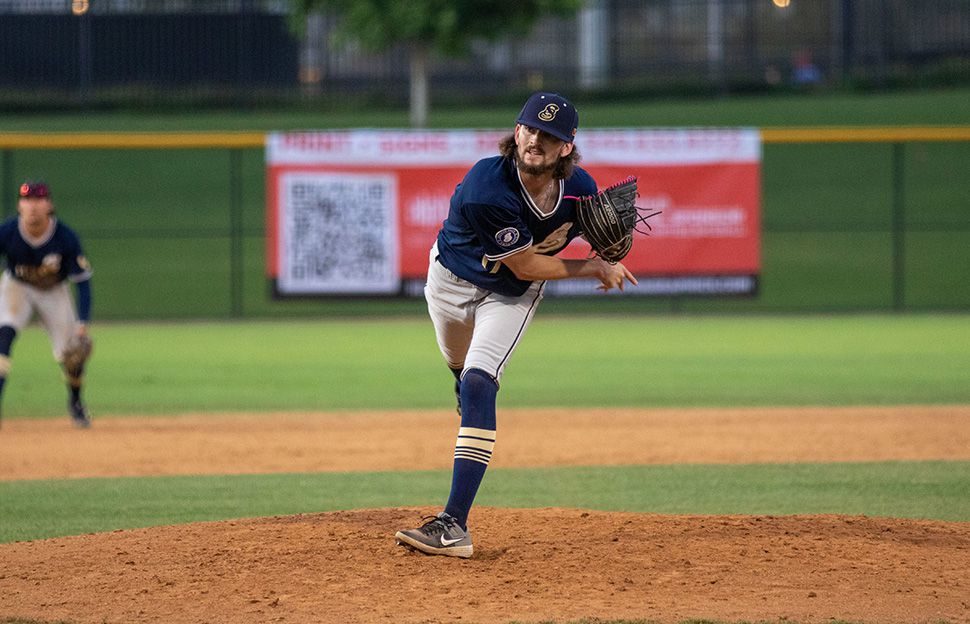 IRVINE, CA – Despite trailing for most of the game, the Saints escaped Orange County with a 6-2 win, thanks in large part to a five-run seventh inning. 
Up 2-0 in the fourth, Orange County looked primed to build on their lead with Chase Valentine (Tennessee) on second base. After Saints catcher Jacob Sanchez (Texas – Rio Grande Valley) was unable to handle a pitch from Cole Dale (UC San Diego), Valentine made a beeline for third. However, Sanchez quickly corralled the ball and made the throw to third baseman Matt Marlow (Regis), who easily tagged out Valentine and neutralized the scoring threat. Following the game, Saints head coach Aaron Milam praised his catcher's awareness. 
"Hats off to him for being aware and then going and taking care of business there," said Milam. 
The Saints' offense broke through in the fifth inning when Jeffrey Bauser (Nevada), who was on second base, capitalized on an error by Riptide first baseman Zachary Thomas (Dixie State) and easily reached home plate. 
Arroyo Seco would do the majority of their damage in the seventh, however.  The rally began when Sanchez was able to score from third base on a wild pitch, tying the game at two.  The Saints pulled ahead when Kyson Donahue (Hawaii) hit a fly ball that left fielder Miller Ladusau (Abilene Christian) couldn't handle, allowing Bauser to cash in.  Blessinger and Donahue then took advantage of an error by Valentine, crossing home plate and extending the lead to three runs. 
Marlow would cap off the inning with a base hit, driving in Matt Wong (Hawaii) and making the score 6-2. 
An exceptional evening on the mound for newcomer Harold Boyce (LA Mission College) preserved the Saints' lead.  Boyce had a storybook debut, striking out four batters and only giving up a harmless single in 4.0 innings pitched. And the Canyon Country, Calif. native said that he felt extremely relaxed on the hill despite Thursday being his first game with a new team. 
"I felt amazing. New program, new team, everybody welcomed me yesterday," Boyce said. "I just felt really comfortable, I was in my zone and just had fun." 
Milam was extremely impressed with Boyce's first appearance, saying that he believes the right-hander's performance changed the complexion of the game. 
"He came in and changed the tempo of the game. It's amazing what a pitcher can do, how they can come in and change the tempo of the game, just by their demeanor and their competitiveness on the mound," said Milam. 
Still up by four runs in the ninth, the Saints turned to reliever Jake Porter (BYU) to close out the game. And with some help from his defense, Porter did just that. After a 3-6-1 double play, the sophomore pitcher from Provo, Utah provided the final strikeout to seal the 6-2 victory. 
With Thursday's win, the Saints move to 6-8-1 on the season and are 5-5 in their last ten contests. Arroyo Seco will travel to Santa Barbara, Calif. on Friday for the first time this season for a meeting with the Foresters at 6:00 p.m. PST. Follow the action live on the Saints' YouTube and other social media channels.
—
Contributors:
Saints Reporter Sean Brennan (Arizona State)
Saints Photographer Angie Martinez (Mount St. Mary's)
What to Read Next