News
Big Fourth Inning for Foresters Downs Saints in Santa Barbara
By Arroyo Seco Saints June 16, 2019 12:35pm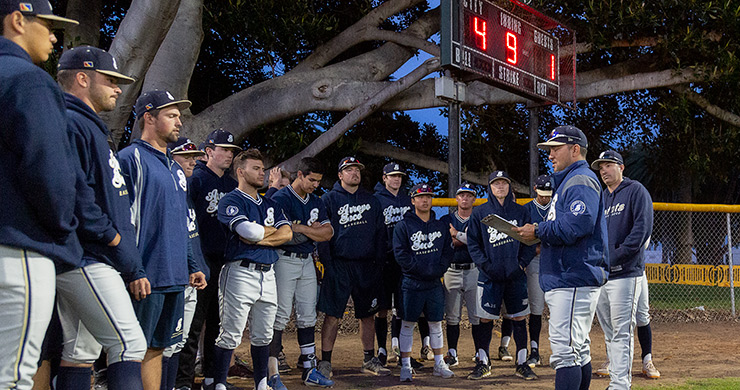 SANTA BARBARA, CA – The Arroyo Seco Saints headed north to Santa Barbara, Calif. on Saturday evening, where they fell to the Santa Barbara Foresters 4-1.
The Saints' starting lefty Hayden Harris (Georgia Southern) kept the Foresters off the board for the first three innings, however, in the fourth inning, the Foresters managed to score four runs.
Righty Luis Ramirez (Long Beach) was brought out of the bullpen in the bottom of the fifth inning to pitch the remainder of the game.
The Saints' rallied in the sixth inning but were only able to score one run. Right fielder Charlie Harrigan (Miami) stepped up to the plate and blasted a line drive to right field for a ground rule double. He was then brought home when shortstop Thomas Luevano (USD) launched a very similar hit to the same location for a back-to-back ground rule double.
Ramirez and the Saints' defense were able to keep the Foresters from seeing home plate for the remainder of the game, ending with a 4-1 loss.
"Hayden Harris mowed them down for three and a half innings," head coach Aaron Milam said. "Then they didn't score a run off of Luis Ramirez, he had a pretty impressive performance."
Ramirez ended the game pitching four innings, while not allowing any runs.
"I think [the defense] did a good job backing me up, especially my third baseman [Tido Robles (Azusa Pacific)] fielding those ground balls, it was a solid performance," Ramirez said.
"We gave them one big inning and they won the game, they didn't score out of that inning," Milam said. "We had some bus trouble coming up here, so we didn't get batting practice. I still thought we swung the bats OK, I just don't think we cashed in on a couple opportunities that we had."
The Saints will host the Ventura County Pirates at Jackie Robinson Memorial Field in Pasadena, Calif. on Tuesday. The first pitch will be thrown at 6:05 p.m.
—
Contributors

Saints Reporter Grace Mikuriya
Saints Photographer Garrison Pena

View the live stream of the game on the Saints' Youtube channel
What to Read Next