News
Saints Go Down Early, Battle Back Late, but Ultimately Fall 11-8 to Conejo Oaks 
By Arroyo Seco Saints June 12, 2022 10:24pm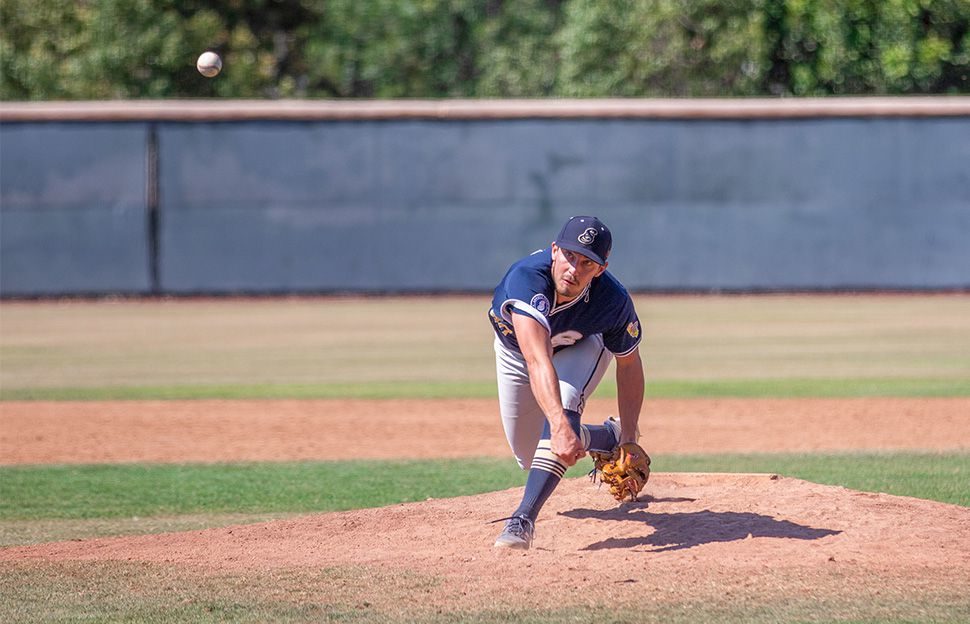 THOUSAND OAKS, CA — The Arroyo Seco Saints finished a two-game road trip in Thousand Oaks, Calif., at Cal Lutheran University in a Sunday, midday contest against the Conejo Oaks. The Saints faced a large deficit for most of the game but battled back late before eventually taking an 11-8 loss. 
The Saints led off the first inning with Jashia Morrissey (Long Beach State) drawing a walk. After Morrissey was moved up to second on a groundout by Max Blessinger (Pasadena CC), the speedy utility player swiped third base. The Saints then scratched across a run after a groundout by Nathan Becker (Rice). 
The Oaks would respond quickly by tying the score in the bottom of the first after a bases loaded walk. 
The Saints would then go down big after giving up 9 runs in the middle innings. Right-handed pitcher Logan Deskin (Regis) stopped the bleeding for Arroyo Seco by facing the minimum over two innings of work including one strikeout and one hit. 
After his second successful outing of the weekend, Deskin reflected, "I'm feeling really confident in myself right now as long as I can keep throwing strikes and making sure I can get some bad swings." 
The Saints chipped away in the 6th after Tyler LeJeune (Arizona) drew a walk and was later driven in by a Nathan Becker sacrifice fly. 
The Saints scored twice in the 8th inning after Jordan Rogers (Wichita State) doubled and then scored. 
In the 9th inning, two defensive errors by the Oaks plus a LeJeune RBI double extended the Saints' 4-run rally. 
Saints' Manager Aaron Milam is not worried about the high volume of runs giving up right now. He stated, "We're going to be just fine. We asked some guys to throw on short rest because we've got guys coming in." 
Milam went on to praise the pitching performance of Logan Deskin and emphasized that Carson McKinney (Uncommitted) is only going to get better with more repetitions on the mound after an injury contributed to limited competition for the former Texas Longhorn. 
Milam concluded his postgame thoughts by focusing on how the team dynamic evolves in collegiate summer baseball. He noted players will continue to communicate with each other to better learn each other's tendencies. He also reinforced the importance of pre-game routines and how those contribute to enhancing chemistry between team members
The Saints' next game is Tuesday, June 14 at 6:05 p.m. PST against the San Luis Obispo Blues. This contest marks the beginning of a three-game homestand at Jackie Robinson Memorial Field in Pasadena. Tune-in to the Saints' YouTube and social media channels to follow the action live.
 
Saints Contributors: 
– Reporter Jackson Crawford (Texas) 
– Photographer Angie Martinez (Mount St. Mary's) 
What to Read Next